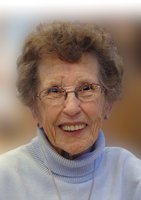 Dyonne L. Davis
July 6, 1927 - February 10, 2018
Dyonne L. Davis, age 90 of Southgate.
Dearest wife of the late Ronald. Loving mother of Ronald Jr. (Noreen), George (Karen), David (Kathryn), Dale, and Mary Ellen Thompson. Grandmother of Mikel (Janel) Davis, Katelyn Davis, Meredith Davis, Ross (Cindy) Davis, Stephanie (Tim) Polonkey, Jason (Carly) Davis, Josh (Jillian) Davis. Great grandmother of Hunter Polonkey, Hansen Polonkey, Summer Polonkey, Avery Davis, Callan Davis and Alexander Davis. Sister of Phyllis Johnson and Stanley Hansen. Aunt of many nieces and nephews. Preceded in death by grandson Zachary Davis.
Memorials appreciated to St. John's Lutheran Church, 28320 Waltz Rd, New Boston, MI 48164, or Angela Hospice, 14100 Newburgh Rd, Livonia, MI 48154.
FAMILY TRIBUTE
Dyonne Lou Hansen was raised in Sand Creek WI, along with her sister Phyllis and brother Stanley. She was an old hand at milking cows, wrangling horses and a champion green bean picker. Her family moved to Detroit before her senior year in high school. It was there that she met Ronald Davis, her next door neighbor, who carried in her many pairs of shoes. During her senior year of high school, Dyonne was awarded a blue ribbon at the Michigan State Fair for her apple pie. She continued making those apple pies over the next 60 years. Ron and Dee were married in 1946 at the ages of 18 and 19. They were blessed with 4 boys. Along with raising their boys, Dee had various jobs. Her employment history included working at the Detroit Bank, where she experienced an armed robbery. When her boys were young, after putting them to bed, she worked the night shift at Quicky Donuts. Later, she was instrumental in starting the Southgate School District's Special Education program. She drove the school bus for those children. She later became the receptionist for the Southgate School Board of Education until she retired. Ron and Dee's retirement brought many happy memories for them of camping and traveling in their motor home. Nothing made them happier than being with their children, grandchildren and later, great-grandchildren.
Throughout her life, from childhood through her later years, Dee was a servant in every sense of the word. She was known for the countless afghans she made, giving them all away. She also was known for her egg sandwiches and so many homemade cookies that she made for others, without eating them herself. Dee was an active member of Peace Lutheran Church in Southgate, and later became a member of St. John's Lutheran Church in New Boston. She cared for friends and family when they were sick and dying. All knew they were welcome in her home, where she always found something for visitors to eat. Dee leaves behind a legacy for us to emulate. She put God first in all that she did. She was a loving example of giving, compassion, caring for others and always putting others before herself. Her love for her Savior was evident throughout her final days on earth. When her body failed her, she continued to profess her faith and belief in the one true God. Through her faith-filled, loving example, Dyonne leaves her lasting imprint on our world. "Her children rise up and call her blessed." Proverbs 31:28