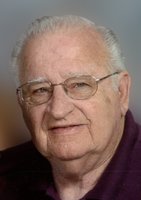 Leroy Bias
July 18, 1937 - February 11, 2018
Leroy Bias. Age 80 of Southgate.
Beloved husband of Barbara Bias. Loving father of Duane (Rhonda) Bias, Kevin (Tammy) Bias and Joel (Amanda) Bias. Dearest grandfather of Shelbi (Dominic) Ruffino, Cory Bias, Casey Bias, Peyton Bias and Ryan Bias.
FAMILY TRIBUTE
Lee was born on July 18, 1937 to Walter and Virginia Bias in Stirrat, West
Virginia. He and his older sibling, Lucille, spent their early years in West Virginia,
but in the summer of 1943, Walter moved the family to Wyandotte where he
found work at Firestone. Lee grew up in Wyandotte and attended Roosevelt
High School where he was a stand out athlete in baseball, basketball, and
football.

After graduation in the spring of 1955, Lee attended Henry Ford College briefly
while serving in the Marine Corps Reserves at the Marine Corps Air Station on
Grosse Ile. On March 30, 1959, he entered active duty service with the Marine
Corps at the Marine Corps Recruiting Depot in San Diego, California. After
nearly three years of service including overseas tours, he attained the rank of
Corporal E-4 and became a drill instructor. In February 1962, Lee met his future
wife, Barbara Headrick, on base in San Diego. After nearly a year of courtship,
they were married on February 2, 1963. They welcomed their first son, Duane,
later that year. Kevin arrived in 1964 and their third son, Joel, was born in 1967.
After leaving the Marine Corps in March 1963, Lee worked as a laborer at
McClouth Steel in Wyandotte while attending night classes in electronics. In
1967, he was accepted into an apprenticeship program to become a millwright at
Vulcan Mold and Iron in Trenton. After graduating from the apprenticeship
program in October of 1971, Lee applied to and was hired by the Ford Motor
Company in Woodhaven. He spent 27 years at Ford taking great pride in being a
skilled tradesman. Few things gave him more satisfaction than "making big,
complicated machines go".

His three sons grew up, married and now have families of their own. Duane
moved to Tennessee and married the former Rhonda Doane. Their only
daughter Shelbi is now married to Dominic Ruffino and works as a financial
planner in Knoxville. Kevin married the former Tammy Trammell. They have a
son Cory and daughter Casey. Cory is now a paramedic in Van Buren Township
and Casey is a senior in Mechanical Engineering Technology at Ferris State.
Joel married the former Amanda Rolaff. They have a daughter Peyton and a son
Ryan. Peyton is a senior at NYU in Theater Arts and Ryan is a freshman at
Northwood University in Midland.

Throughout his life, Lee's faith was always a focus. He leaves behind a well-worn
Bible and a wonderful church family at Rouge Free Will Baptist in
Wyandotte. Pastor Slater and the congregation always made him and Barbara
feel welcome.

In closing, Lee will be remembered for his faith in God, devotion to his family, his
patriotism, his strong, but considered opinions about life and politics, and his
phone signoff – "if anything comes up, give us a buzz". Semper Fi and God
Bless.