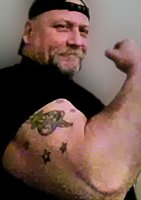 Roger A. LaBeau
July 17, 1963 – February 28, 2018
Roger A. LaBeau. Age 54 of Wyandotte.
Beloved son of Shelby LaBeau and the late Roger E. LaBeau. Dear brother of Angela (Jim) LaBeau-Roenick, Rickey LaBeau, Stacy (John Gurniak, Sr.) LaBeau and Carl Murray. Roger was more than an uncle to Madison Roenick, John Gurniak, Trevor Gurniak, Travis (Amber Smith) Gurniak, Damon Murray, Kamryn Murray and great nephew TJ (Travis Roger Gurniak) he guided and encouraged them to be a better person.
FAMILY TRIBUTE
Roger A. LaBeau was born and raised in Wyandotte, Michigan. He attended Theodore Roosevelt High School. Growing up, he enjoyed playing hockey and he played for the city of Wyandotte. He also enjoyed dirt bike riding and he especially loved lifting weights. Roger was a professional auto detailer with over 25 years' experience. He was also a welder and heavy engine mechanic and did auto body repair. He was really the jack of all trades - he could do anything. Roger loved to spend quality time with his family and friends. He had a heart of gold and was always loyal and true to everyone in his life. He was altogether an amazing person. He truly could light up the room and made our lives a brighter and happier place.
Roger will always be loved and missed by all who knew him he will never be forgotten. Although he has left us for now, we all take comfort that someday we will be reunited with him. Until then, Roger will always live in our hearts for the rest of our lives. Amen