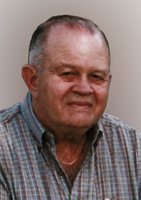 Frank "Bill" Semak
June 14, 1932 - May 13, 2017
Frank "Bill" Semak, Age 84 of Taylor.
Beloved husband of the late Rita Loraine Semak. Loving father of Mary (Scott) Chamberlin. Dearest grandfather of Brian (Jamie) Chamberlin. Dear brother of Edward, Ernest and the late Julius.
FAMILY TRIBUTE
Frank "Bill" Semak graduated from Southwestern High School in Detroit. After graduation he went to work driving a truck for Standard Paper Company. He served 2 years in the U. S. Army, one in El Paso Texas followed by another at Thule Air Force Base Thule Greenland. He was very proud of his service. He was also proud to be first generation American of Hungarian descent.
In the early 1960's he began a new career at Fords. He worked 12 hours a day, 7 days a week for many years. He stayed there until retirement 28 years later. The stories he told of those years were interesting and entertaining. He worked hard and enjoyed a cold beer, a shot of 100 proof Old Grandad Bourbon, and a good cigar.

He loved his Red Wings and any football game, but his greatest joy was his grandson, Brian. They were best friends and spent many hours at ice rinks and working on cars. Where you saw one of them, the other wasn't far away.
He loved his wife, Loraine and his daughter Mary, whom he called shorty even when she grew taller than him. She was his shadow until Brian came along. He was an excellent husband, daddy, and grandpa. He will be missed by many.