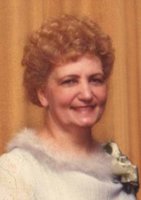 Lena Josephine (DeBiasi) Brockway
Lena Josephine (DeBiasi) Brockway of Trenton, Age 84 died on May 14, 2017.
She is survived by her loving and devoted husband Stanley "Ted" Brockway and preceded by the late Herbert Cadigan. She was born on July 4, 1932 to the late Carmine and Maria DeBiasi in River Rouge, Michigan and graduated from Lincoln Park High School in 1950. She retired from the 33rd district court in 1988. She was cherished by her loving children Daniel (Terri) Cadigan, Diane (George) Lack, Denise (Paul) Blazek, Bradley (Donna) Brockway, Bruce (Betsy) Brockway, Peggy (Steve) Bracey, the late Patrick F. Cadigan, and the late Denise Armstrong-Brockway. Preceded in death by siblings, Violet (James) Jenson, James (Mary) DeBiasi, Julia (Joe) Formentin, Chester (Grace) DeBiasi, Nicholas DeBiasi and great granddaughter Audrey Hazen. Caring grandmother of Paul (Erin), Pamela (Steve), Ryan (Kelly), Emily (Ian), Patrick (Chelsea), Brianna, Jessica (Calvin), Matthew, Jack, James, Casey, Max and 16 great grandchildren including, Aiden, Aislian, Baillian, Connor, Carter, Levi. Also survived by many nieces and nephews.
FAMILY TRIBUTE
Mom, Grandma, Great Grandma, Sister, Aunt, Friend
Lena was the youngest of six children of Italian immigrants. Her childhood was filled with loud excited conversation and great Italian food. She lived in a neighborhood of mixed European immigrants, attending River Rouge schools graduating from Lincoln Park High School in 1950 and returning to school in her 50's attending Wayne County Community College.
She worked for GM at the Fisher Building downtown Detroit, as a secretary, typed 70 words per minute and used shorthand in the duties of her job. She took a bus up Fort Street to downtown, earning a nickname among her friends of 'Fort Street Lena'.
She married Herbert F. Cadigan in 1952, becoming a mother to Daniel Michael, Diane Marie (Dodie), Denise Mary, and Patrick Francis, eventually settling in Trenton, Michigan. Her life was not easy as Herbert battled alcoholism until his suicide at the age of 46 years. Lena was widowed at 44 years.
She enjoyed her job at the 33rd District Court, as a probation clerk and volunteer probation officer, making many lifelong friends.
In 1982 Lena's youngest son Patrick, who suffered from schizophrenia, also died of suicide after a yearlong intensive hospitalization. She had worked passionately as his advocate and loved him deeply as she did all of her children.
After Patrick's death, she attended a Survivors of Suicide group, where she met the love of her life, Stanley (Ted) Brockway, who was dealing with the suicide of his wife. Ted was her "knight in shining armor". They married in 1983 and lived in the Trenton home Lena had been in since 1956. She was then step mother to Ted's grown children, Denise, Brad, Peggy, and Bruce. Ted and Lena had a beautiful, caring relationship, a wonderful example to all of their children.
They had an idyllic marriage, traveling extensively, visiting children, grandchildren, and great grandchildren. They were inseparable, rarely going anywhere without the other. After retiring from their jobs they worked out at the Trenton Athletic Club five days a week. They also attended Westfield Senior group, active in those activities and trips, and Detroit Edison retiree dinners. Ted and Lena attended Church at Our Lady of the Woods rarely missing a Sunday mass, sitting in the same pew every week. They also walked across the Mackinaw Bridge every Labor Day for greater than 15 years, eventually including grandchildren in their trips to Mackinaw. They have many friends that they have kept in contact with even in these later years.
Lena loved getting dressed up and she and Ted often wore matching colors. For each of the grandchildren's graduations they dressed in school colors, her usually her in a skirt and jacket and him with a matching tie and pocket handkerchief.
Lena also loved high heeled shoes. She had an extensive closet of shoes and wore stiletto heels that matched every outfit, wearing them even into her 80's, and was very disappointed after an illness when it was no longer safe to wear the highest heels.
Ted had a life altering medical crisis following a surgery for pancreatic cancer. He was gravely ill and near death multiple times. He was ill for years and has had other medical incidents since then. Over the last 7 years,through all of this, Lena never left his side until her sudden death on Mother's Day. She was completely and utterly dedicated to her Ted. Taking care of him in all ways and as he took care of her in her illnesses. Theirs's was a love story like no other. An example to all of us.
Lena Brockway was not perfect as none of us are, but she lived life fully, and persevered in spite of the tragedies she endured. She was outspoken always wanting to right the wrong done to her or her family. She found love in a wonderful, thoughtful, kind man. She found love and fulfillment in her children, grandchildren, and great grandchildren, attending countless band and choir concerts, ballet recitals, hockey games, wedding, births, and deaths, being there for every milestone and need. Most importantly she found peace in her God who gave her what she needed to live a wonderful life.