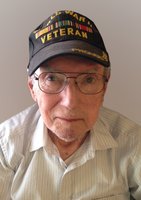 James H. Laidler
May 22, 1925 – May 16, 2017
James H. Laidler, Age 91 of Gibraltar and Lincoln Park.
Beloved husband of the late Carolynn Laidler. Loving father of Lorraine Hughes, James B. (Kimberly) Laidler, Janet Laidler and Catherine (John) Lau. Also survived by 6 grandchildren and 8 great grandchildren.
FAMILY TRIBUTE
Born in Windsor, Ontario, he moved to Ecorse, MI when he was very young. Graduated from Ecorse High School and joined the Royal Canadian Air Force in 1943. After serving three years and engaging in combat over the north atlantic, he returned to Ecorse and was drafted into the US Army Air Corps fr another year.

His first job out of the military was with Ford Motor Company where he eventually became Superintendent of the Glass Plant. He submitted an idea to the company for the reflective tape you see on vehicles. He attended Wayne State University while he was working and was studying Law, then changed to Education. He became a teacher on the Detroit School District at Durfee Junior High School and moved to being a High School teacher at Schaefer High School in Southgate.

He continued his education while at Schaefer, eventually obtaining two Bachelor's degrees, two Masters and his Doctorate in Education from Wayne State University. On the way to his goal he also attended Case Western University (Western Reserve at that time) and Valparaiso University.

He then became the Assistant Superintendent of Schools in Gibraltar, MI from 1966 to 1971. From there, Superintendent of Morenci Area Schools, Lamphere Area School Distirict and then Cheboygan Area Schools where he retired in 1987. After retirement, he taught at Mojave Community College in Kingman, AZ where he eventually became Dean of the school, as well as serving as an adjunct professor for doctoral candidates through Northern Arizona University.

Along the way, he was a member of the American Legion, Jaycees, Rotary, Knights of Columbus, Elks, Kiwanis and was also very active in the Republican Party. He served as a school board member in Gibraltar prior to becoming Assistant Superintendent.