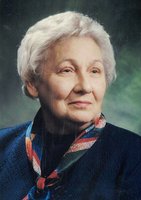 Lois Ellen Johnson
August 17, 1932 - June 24, 2020
Lois Ellen Johnson. Age 87 of Riverview.
Beloved wife of Carl Johnson. Loving mother of Ruth Walls, Sarah Johnson, Jamie (William) Renshaw, Mary (Paul) Sawicki and Rebecca (Michael) Cheng. Also survived by 8 grandchildren and 1 great grandchild.
Cremation will take place at The On-Site Crematory located within the Molnar Funeral Homes - Brownstown Chapel.
Memorials Appreciated to Southpoint Church or Doctors Without Borders
Family Tribute
Lois Johnson loved God and her family. She met her husband, Carl, when he came from Cincinnati to minister at the church she was a member of in Southwest Detroit. They married September 12, 1953. They had 5 daughters, 8 grandchildren, and a great-granddaughter.
Lois was born in Montpelier, Ohio to Ralph Getty and Sarah (Miller) Getty. She had one brother Samuel Getty. Her father was a railroader and they came to Detroit when she was 3 years old. She graduated from Southwestern High School in Detroit. She then attended Michigan State University for 2 years.
Lois loved music. She played piano and loved to sing. She was a member of the Wyandotte Choral Society.
Lois was a quilter. She made many quilts for close friends and family. Her quilts were works of art.
Lois was a paraprofessional in Southgate Schools for 19 years. She loved working with the children and the teachers.
Lois will be remembered for her quiet, peaceful nature. She had a sweet smile. Her family also knew she had a wicked sense of humor.
Lois was very empathetic. When she saw a story about homeless people not having socks or underwear, she decided that she didn't need presents for her birthday or Christmas. Instead the family was to buy socks and underwear to donate to shelters.
Family and friends will miss Lois' smile, her loving nature, and quiet dignity.