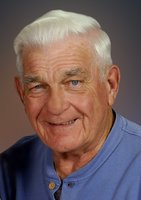 Raymond "Wimpy" DeSana
July 17, 1932 – August 4, 2020
Raymond "Wimpy" DeSana. Age 88 of Wyandotte.
Beloved husband of Rose Ann DeSana. Loving father of Robert (Denise) DeSana, Thomas (Norma) DeSana, Theresa (John) Wallen and the late Geralyn Patterson. Father in law of Michael Patterson. Dear brother of James DeSana, JoAnne Cuva, Marlene Wellman, the late Jack DeSana and the late Phil DeSana. Also survived by 7 grandchildren and 6 great grandchildren.
Memorial contributions are appreciated to Rotary International PolioPlus.
Services will also be live streamed. The family encourages anyone who wishes to participate to please do so. Please click the following link to view the service: https://youtu.be/QuZKTCYbz9E
Family Tribute
Raymond was born on July 17, 1932. He attended St. Patrick's School in Wyandotte he graduated from 1951. He was married to his high school sweetheart for 67 years. At the age of 3, he got and survived polio. During his lifetime, he worked many jobs including; Pfeiffer's Beer, Wyandotte Power Plant, manager at a credit union, owner of a marina, bowling alley, car wash, and several trailer parks. Raymond enjoyed playing football, baseball, hockey, and basketball even though he only had one good leg.
He will be remembered for being strong-willed and very determined to not let his polio stop him from achieving anything he set his mind on. He loved boating, fishing, traveling, golfing, playing cards, and going to the casino. He could often be found riding his bike around Wyandotte. Raymond loved his family and worked hard to provide for them while picking up odd jobs.