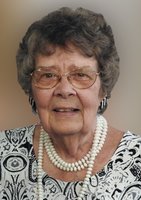 Eula Mae Jones
November 13, 1935 – November 1, 2020
Eula Mae Jones. Age 84 of Southgate.
Beloved wife of Charles Jones of 65 years. Cherished mom of Karen (Jeff) Cady and Kathy (Tom) Frank. Adored grandmother of Myranda (Justin) Fabian, Steven (Hailey) Frank, Lauren (Ryan) Potocsky and Stephanie Frank. Loving great-grandmother of Claire Fabian and Luke Fabian. Dear sister of Fred (Karen) McClellan and the late June Lovin-Meagher.
Family Tribute
Eula Mae was born in Nallen, West Virginia to Rev. Vere and Ella McClellan. She enjoyed a close, lifelong relationship with both of her younger siblings, June and Freddie. She grew up in Gauley Bridge, West Virginia and graduated from Gauley Bridge High School in 1953. Although she knew Charlie (aka "little William") for most of her life, it wasn't until they both worked at Gauley Motors after high school that romance bloomed and they were married on December 18, 1954.
In 1955, Charlie and Eula Mae moved to Michigan at the coaxing of family and seeking better employment opportunities. They initially lived with Eula Mae's aunt and uncle (Bill and Juanita Osborne) before purchasing their first home on Pullman Street in Southgate. Their first daughter, Karen, arrived on the scene while at the Pullman house, and five years later they made the move to Windemere in Southgate shortly before the arrival of their second daughter, Kathy. Eula Mae and Charlie raised their daughters in this home and resided there for over 55 years.
Eula Mae loved children. Not just her own, but everyone's children! She tirelessly participated in all of her daughters' activities including dance classes, volunteering for camp counselor, band practices, and volunteering in the schools her daughters attended. She was active in the Children's Ministry at her church for years and, being an accomplished pianist, played the piano for Sunday School and "Junior" Church. After her youngest daughter was in school full time, Eula Mae turned her volunteerism in the schools into her employment and lifelong avocation becoming a para-professional working with children with special needs in the Southgate School District. Her patience and love of children made her perfectly suited for this role from which she retired in 1994.
Eula Mae and Charlie were married for nearly 66 years. They enjoyed traveling and spending time together with family. Her family will forever treasure the memories and legacy that she left behind, and the fierceness with which she loved each one of them. She loved to brag about her kids and grandkids to anyone who would listen. She had a way of making each one of her grandkids feel certain that they were her personal favorite! She also adored her great grandchildren who were fortunate to enjoy time with "Ole Mae," as they affectionately named her. Eula Mae loved the beach and swimming and was able to enjoy many vacations with kids, grandkids and great grandkids alike. She loved celebrating every holiday, birthday and personal milestone surrounded by family. She gave to and received joy from family all the days of her life.
Her faith was made sight on Sunday as she passed peacefully in her sleep. We will love her, miss her, and long for her all of our days, but we praise God and rejoice in the confidence that she is now Home!
Services will be live streamed. The family encourages anyone who wishes to participate to please do so. Please click the following link to be view the live stream service: https://youtu.be/I4GTXe0Qxys