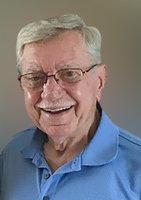 Joseph Jakunskas
March 23, 1935 - December 11, 2020
Joseph Jakunskas. Age 85 of Trenton.
Beloved husband of the late Josephine. Loving father of Donna (Mark) Jobin, Debbie Jakunskas, Dori Jakunskas and David (Lisa) Jakunskas. Also survived by 13 grandchildren and 5 great grandchildren.
Family Tribute
Our family lost an absolute legend of a man. Dad, Grandpa and Great Grandpa – he was proud of each and every one of us. He taught us how to dance, be strong, and make a friend of everyone.
Born in Lithuania, Joe was forced to flee on foot under the threat of death at the start of WWII. He arrived in the US not knowing one word of English. Joe met Josephine, the love of his life, at the Grande Ballroom in Detroit. He raised four children, thirteen grandchildren, and beamed of joy for his five great grandchildren.
Joe loved to tell his family and friends stories of his life. Every life he touched made a forever memory of him. When Jo became sick, he never left her side. Mom and Dad are now dancing in heaven!
We are blessed to have had you for so many years and you are loved beyond words. Even though we can no longer see you, we know you are always near. Our hearts are broken when God took you home. All of us look forward to when we meet again.
We all love you!