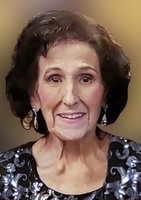 Rose Mary Sclafani
November 21, 1929 – February 8, 2021
Rose Mary Sclafani. Age 91 of Southgate.
Rose Mary Sclafani of Southgate, born November 21st, 1929 passed away peacefully at home, surrounded by her loved ones on February 8th, 2021 at 91 years old. She was a devoted wife of the late Santo Sclafani for 43 years. She was also a devoted mother, grandmother, and great grandmother. Rose is survived by her eldest son and daughter in law Matteo and Constance Sclafani, beloved son Onorato Sclafani, dearest grandchildren; Rose Sclafani, Jared (Anna) Sclafani, Krystina (Abbas) Daher and Santo Sclafani, and six cherished great grandchildren; Serena Sclafani, Anthony Sclafani, Adam Daher, Alexander Daher, Andrew Daher (expected later this month,) and Natalie Sclafani (expected in July.) Also survived by her sister-in-law Sarah Consiglio. She is proceeded in death by her dear parents; Alfonzo and Rosalia Consiglio, and her siblings; Pearl Ventimiglia, Thomas Consiglio, and William Consiglio. She will be missed dearly by all who knew and loved her. She is also survived by two estranged children and their families.
In accordance with the Michigan Department of Health and Human Services Orders - The Molnar Funeral Homes is following and observing the 25 person cap on funeral attendance at one time. We are also practicing social distancing and masks are required for every person entering the building. Thank you for helping us keep everyone safe.