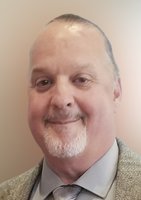 Gerald E. Sullivan
October 23, 1960 – February 15, 2021
Gerald E. Sullivan. Age 60 of Southgate.
Beloved husband of Carol Sullivan. Loving father of Eric (Geralyn) Lomax, Cera (Matthew) Bigelow and Paul Sullivan. Dearest grandfather of Delilah, Evelyn, Arthur, Alena and Colin. Dear brother of John (Linda) Sullivan, Annemarie (The late Craig) Brown, Patrick (Lois) Sullivan, Suzanne (Dave) Shomsky, Andrea Sullivan, Timothy (Kathy) Sullivan, William (Kitrina) Sullivan, James (Barb) Sullivan and Paul (Denise) Sullivan. Also survived by Aunt Bea Whitman, many nieces and nephews and great nieces and nephews. Preceded in death by parents Arthur and Doris Sullivan and uncle Ray Whitman.
Family Tribute
Gerald Edward Sullivan was born October 23, 1960 to Doris and Arthur Sullivan. He was #8 of ten children and was a part of the 'Gremlins', which was the nickname for all the little mischievous brothers born closely together. Ger-Bear was the most mischievous of them all.
Gerry grew up in Southgate, Michigan. Along with all of his brothers and sisters, he attended St. Pius Catholic School, and then Aquinas High School ('78). He played every sport he could, and always played with enthusiasm and heart. Summers were spent having fun in Indian River at the cottage with family and friends. Gerry married Carol in March 1992. Their three beautiful children were the joys of his life. They gave him his five grandchildren, Delilah, Evelyn, Alena, Arthur, and Colin. Gerry continued being involved in his community, at St. Pius as a school bus driver, coach and as Athletic Director. He worked at Chrysler for 20 years, and saw many parts of the country driving for Chrysler. Gerry was good with his hands, and got excited about new projects and helping others. He also made many friends everywhere he went, and had many lifelong friends.
Above all else, Gerry loved his family. Parents, siblings, aunt, uncle, nieces & nephews. He loved his wife and children. Most of all he loved his grandchildren. He loved watching them play and grow into wonderful kids. He was very proud of the family he had helped create. It was an honor for him to be a husband, dad, and grandpa. His favorite place on earth was the cottage. He could sit on the porch for hours at a time just watching the birds and listening to the running pond. He wanted to see it thrive all while maintaining the soul of the place. He loved to see friends and family treat it like their home as well. Everyone is welcome there.
His was a joyful heart.
Cremation will take place at The On-Site Crematory located within the Molnar Funeral Homes - Brownstown Chapel.
Memorial contributions are appreciated to the Karmanos Cancer Institute.
In accordance with the Michigan Department of Health and Human Services Orders - The Molnar Funeral Homes is following and observing the 25 person cap on funeral attendance at one time. We are also practicing social distancing and masks are required for every person entering the building. Thank you for helping us keep everyone safe.