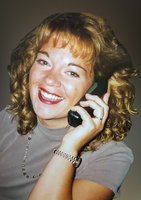 Jacquelyn Ann Lonsbury
August 3, 1970 – February 20, 2021
Jacquelyn Denman Lonsbury. Age 50 of Grosse Ile.
Loving mother of Austin Lonsbury and Nicholas Lonsbury. Beloved daughter of Barbara (the late John) Denman. Dearest sister of Renee (Gregory) Thompson and Rachelle (Robert) Smith. Dear aunt of Madison Thompson, Matthew Thompson, Michael Thompson and Christian Smith.

Family Tribute
Jackie graduated from Grosse Ile High School in 1988. After graduation, she went on to attend Mott Community College where she studied Dental Hygiene and earned her associate's degree in science. Deciding she wasn't done, she then proceeded to attend Western University in Michigan where she studied Fashion Merchandising. She would then study an additional two years of Fashion Merchandising at Wayne State University in Michigan. Finally, she studied at the University of Detroit where she earned a Bachelor of Science Degree.
Jackie's first priority was always her two sons, Austin and Nicholas. She used her creative talents to surprise them with unique birthday parties, innovative dinners, interesting events to attend, and exciting ways to brighten up their days.
She had a special gift in knowing how to make people laugh. Her fun-loving nature will be missed by friends and family alike. Her love for fashion was apparent. She was known for her stylish appearances, wearing spiked heels, matching bags, and statement sunglasses. Jackie will be remembered for her blue eyes; their sparkle and the joy she brought into our lives.
Private Family services will be held.
Cremation will take place at The On-Site Crematory located within the Molnar Funeral Homes - Brownstown Chapel.
In accordance with the Michigan Department of Health and Human Services Orders - The Molnar Funeral Homes is following and observing the 25 person cap on funeral attendance at one time. We are also practicing social distancing and masks are required for every person entering the building. Thank you for helping us keep everyone safe.