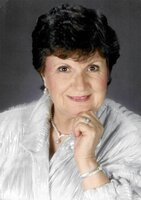 Pauline Ellul
February 10, 1933 – February 1, 2022
Pauline Ellul. Age 88 of New Boston.
Beloved wife of the late Victor Ellul. Loving mother of Laurie (Steve) Carroll and Vincent Ellul. Dearest grandmother of Rick (Kristy) Galda, Vincent (Carrie) Ellul, Anthony Ellul and Erica Ellul. Great grandmother of Vincent Ellul. Dear sister of Joseph Zammit, Katie Vella, Gina (Charles) Psaila, Iris (Tony) Vella, Mary (Bill) Lawless and Richie (Dave) Lambert.
Memorial contributions are appreciated to Alzheimer's Association, Henry Ford Hospice or Michigan Humane Society.
Services will be live-streamed. The family encourages anyone who wishes to participate to please do so. Please click the following link at the time of service to view service: https://youtu.be/wAFKp6dA580
Family Tribute
She was just a child when World War II was ravaging Europe. She was forced to give up her education only attending school until the third grade. Her family was large, 6 girls and 4 boys. She was taught crafts as a way to help her family finically. She did piece work to support her family's income. She developed a love to knit, crochet, sew and make Christmas ornaments. She shared these possessions with friends and family and donated many of her articles of work.
A very religious person, she enjoyed going to church. She gave the church her time, anywhere from washing and linens. Helping the Nuns to sewing outfits for Infant of Praque.
She was fortunate to share a relationship with her best friend Fortuna for 50 years. Also spent much time with her family. My mother was God Mother to her youngest child Sandy. They both worship this privilege. Fortuna and my mother enjoyed going to church and taking walks in the neighborhood. They celebrated holidays, weddings, the Maltese Club and out to eat. Their friendship will last an eternity.