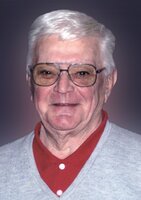 Gerald Baetz
March 28, 1931 – February 7, 2022
Gerald Baetz. Age 90 of Wyandotte.
Gerald Jack Baetz was born in Wyandotte in 1931. He dedicated his life to making his community a better place for everyone. Gerald served his country in the US Air Force and then went on to complete a B.S. in Civil Engineering from Michigan State University, he spent his career with BASF.
Gerald was involved on a regular basis and in leadership roles with The Kiwanis Club, The Masonic Lodge, The Salvation Army and the Shriners. He was happy to lend his support ringing a bell in the cold, flipping pancakes, counting donations and organizing meetings. Whatever was needed, he was there. He felt strongly about helping others and did so in an unassuming manner. He contributed his resources to The Penrickton Home for the Blind and the Shriner's Hospital for Children in Chicago. He quietly helped and shied away from recognition.
In between all of his civic duties he was able to squeeze in some great golf outings and a lot of laughs over euchre. In his younger days, he played a mean saxophone with a jazz band and was a competitive speed skater. Throughout his whole life, he was an amazing friend to those who knew him well.
As an only child of Hilda and Harry, who have predeceased him by many years, and the other dear friends who have gone before him, he is now joyfully reunited in all of their love.
Memorial contributions are appreicated to The Salvation Army of Wyandotte.