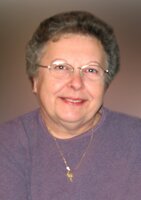 Georgette H. Afek
December 31, 1947 - February 18, 2022
Georgette H. Afek, age 74 of Grosse Ile, Michigan, passed away after a courageous battle with carcinoid cancer on Friday, February 18, 2022. Loved by many, she will be dearly missed.
Georgette was the beloved wife of the late Stanley Afek, devoted mother of Kristin (James) Stewart and Kerri Nicole Perry, loving grandmother of Ian and Alexander Stewart, and dear aunt and cousin to many. Georgette was preceded in death by her mother, Margaret Maciejewski, and her father, Edward.
Georgette grew up in Melvindale, Michigan, and graduated from Rosary High School. She obtained a BSN from the University of Detroit Mercy (formerly Mercy College of Detroit) in 1969 and worked over 20+ years as a nurse in the emergency room at Children's Hospital.
Georgette enjoyed spending time with her family; providing care and comfort to others, and serving her church community.
Georgette was compassionate, faithful, gentle, kind-hearted, and humorous.
Memorial mass offerings in Georgette's name or donations to the Carcinoid Cancer Foundation in her memory are appreciated.