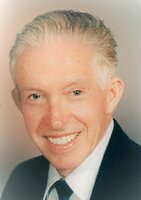 Eugene Smith
February 8, 1933 - June 6, 2022
Eugene Smith. Age 89 of Wyandotte.
His Legacy… Eugene Smith, 89, passed away June 6, 2022. He was born on February 8, 1933, in Fount, Kentucky to Tipp Smith and Carrie (Smith) Smith. Eugene married the love of his life, Verda Miller, on June 11, 1960, in Rochester, Michigan. Eugene will be remembered for his love of traveling, hiking, and sight-seeing. As a Christian, he loved the Lord, and he and his wife Verda belonged to Woodhaven Bible Church for 60 years. Most of all, Eugene loved spending time with his family. He and Verda shared over 60 beautiful years together, and he was a wonderful husband to her and father to their children. He will be greatly missed.
His Family… Eugene will be missed by his wife Verda; his children, Tina Borek, Alan (Kristen) Smith, and Tresa Mitchell; sister, Helen Buckhorn; grandchildren, Heather, Brandon, Lexi, Camille, Darlene, and Brian; Great granddaughter Nova.
His Farewell… Eugene's family and friends will gather Thursday, June 9, 2022, from 5:00pm – 8:00pm, at Molnar Funeral Homes-Brownstown Chapel, 23700 West Road, Brownstown, Michigan. His Community Farewell will be held on Friday, June 10, 2022 at 11am (10am gathering), at Molnar Funeral Homes-Brownstown Chapel. Burial at Michigan Memorial Park in Flat Rock, Michigan. Please leave a message of comfort for Eugene's family at 1-877-231-7900, or sign his guestbook at www.borekjennings.com.