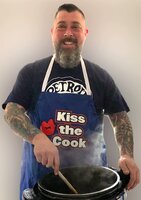 Randy Kester
August 10, 1978 – June 27, 2022
Randy Kester. Age 43 of Grosse Pointe Farms.
Randy was the son of Ellen (nee: Musa) and the late Dennis Kester. Also survived by Sandy (nee: Martin) Kester and their two daughters Lily Ellen and Randi Jane. Brother of Melissa (Steve) Minella, Whitney (Josh) Holman and the late Denis Kester. Uncle of Vanessa (David) Belcher, Veronica (Evan) Berry, Charlie Minella, Caleb Holman, Talia Holman and Elijah Holman.
Randy always said, "If I die tomorrow, at least I lived a full life." After graduating high school from Southgate Anderson, Randy served with the United States Marine Corps. He lived in California before returning to Michigan. He was a guy with a lot of character who lived life, went for his dreams, spoke his mind, was rough on the outside but cared deeply on the inside. Many people have said, "I never met someone else like Randy" or "I've only known him for a short time but he made such an impact on my life". Randy always had great stories to tell with his love of music that including playing trumpet, singing, and his crazy obsession with Hammond Organs and Leslie Speakers. Others knew him as the guy who loved to cook and feed large amounts of people. He enjoyed a good cooking competition as well. Randy was the guy on the porch that made friends with everyone and almost every dog had to stop to visit him, including pulling owners quickly to meet him up the steps. Randy recently decided it was time for him to get a dog of his own. He said he needed an emotional support animal for when he was home alone. Randy ended up with his dog plus a bonus dog because he couldn't leave the brother behind. Little did we all know that #HallandOatsPups would become our emotional support animals. He will be greatly missed.
Cremation will take place at The On-Site Crematory, located within Molnar Funeral Homes - Brownstown Chapel.