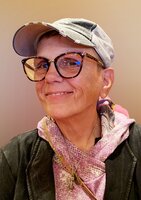 Cindie Loucks
January 4, 1957 - June 30, 2022
Cindie Loucks. Age 65 of Wyandotte.
Beloved wife of Bob Loucks. Loving sister of Michael Orick and Dr. Lisa M. (Joey A.) Orick-Martinez. Dearest cousin of Ryan McFadden. Dear cousin and godmother of Kyle McFadden. Preceded in death by parents Matthew and Helen Orick.
Memorial contributions appreciated to the Alzheimer's Association.
Cremation will take place at The On-Site Crematory, located within Molnar Funeral Homes - Brownstown Chapel.
Celebration of Life will be held Saturday, August 13, 2022. Please contact the family for information.
Cynthia (Cindie) Kay Loucks grew up in Southgate the middle child of three. She earned the title of "wild child" She was fiercely independent and strong willed all her life. She was always into mischief in and out of school, causing numerous headaches for her parents.

After graduating from Schafer High School in 1975, Cindie held numerous jobs until settling into one at Wyandotte General Hospital. In 1987, Cindie married Robert (Bob) Loucks . They celebrated their 35th wedding anniversary on June 27th.

After a long tenure at Wyandotte General Hospital (Henry Ford Hospital now) as a patient advocate in the Emergency room, Cindie chose to pursue her passion for animals and opened her own business, Animal Aunt Pet Sitting Service. Cindie served people and their fur babies (and sometimes scaled and feathered babies) for over 21 years. Cindie always had a way with animals and people. She made many long-time friends from her clients and was there from birth to death, and cried with the pet parents over their loss.

Cindie enjoyed time with her friends, dancing, traveling and visiting her sister, Lisa and brother Michael in Albuquerque, New Mexico as well as yearly "Girls trips" to Mazatlan, Mexico with Lisa (which included a lot of dancing)!

Cindie was a warm, giving person who loved to dance, made friends easily and would give you the shirt off her back. She regularly donated to charities especially animal rescue groups and the Alzheimers' Association.

CIndie's passing will leave our world with one less bright smile, and an emptiness that will never be filled. But even though she is gone, we can be comforted thinking of her dancing her heart out in heaven.

Per Cindie's wishes, the family will hold a Celebration of Life (or as Cindie would say, "A big ole party") on Saturday August 13, 2022. More details to follow.