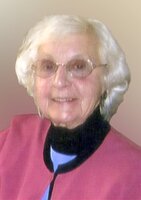 Rosemary Nagy Bucska
July 7, 1930 – August 16, 2022
Rosemary Nagy Bucska. Age 92 of Wyandotte.
Beloved wife of 68 years to Charles Bucska. Loving mother of David Bucska, Thomas (Lisa) Bucska and Mary Lynn (Daniel Treppa) Bucska. Mother in-law of Lori Bucska. Dearest grandmother of Kristin Heavner, Chelsea (Rick) Haugh, Philip (Heather) Bucska, Abbie Bucska, Jessica (Andrew) Boardman, Lauren (Justin) Peters, Benjamin (Sydney) Treppa and Lindsay (Justin) King. Also survived by 14 great grandchildren.
Memorial contributions are appreciated to American Heart Association.
Family Tribute ~
Rosemary was born July 7, 1930 in River Rouge, Michigan to Mary and Joseph Nagy. She was raised in Wyandotte, Michigan where she graduated from Roosevelt High School in 1948. She attended both Eastern Michigan and Wayne State Universities, graduating from WSU with a Bachelor's Degree in Education. Rosemary loved teaching and taught kindergarten and lower elementary children in the Wyandotte school system for several years before becoming a full-time wife and mother. Her love for education never waned; she tutored children in reading, volunteered for the Wyandotte Public Library, taking books to shut-in residents within the community and served for several years on the State Board of Education in Lansing.
Rosemary loved Wyandotte and its strong sense of Community. She served the Community in several capacities; member of Zoning Board, Recreation Commission and Library Board just to name a few. She was active with the Wyandotte Speed Skating Club in the 1960s and 70s, serving as Registrar for all the local, state and international competitions. Rosemary loved to read, work word puzzles, sew, cross-stitch, knit and cook and bake. Her specialties were linked to her ethnic heritage, Hungarian dishes and pastries. Rosemary had a beautiful voice and loved to sing; she served as lead soloist for many years in her church choir. She also loved to travel and experience new cultures. She and her husband, Charles, traveled the United States and Europe during their retirement years.
Rosemary loved her family, both immediate and extended. She was a devoted wife and mother, always there when needed. Rosemary is survived by husband Charles of nearly 69 years, son David, son Thomas (Lisa), daughter Mary Lynn (Daniel Treppa), daughter-in-law Lori, grandchildren Philip (Heather), Abbie, Kristin, Chelsea (Rick), Jessica (Andrew), Lauren (Justin), Benjamin (Sydney), Lindsay (Justin) and 14 great-grandchildren: Henry, Sawyer, Chase, Connor, Max, Miriam, Zac, Blake, Landon, Owen, Cameron, Mason, Jaxson and Everleigh Elizabeth. Rosemary also leaves behind her dear brother, Dennis (Kay) and two nephews Steven (Christy) and Christopher (Kim) along with many, many cousins and friends who loved her dearly. She was preceded in death by her dear brother, Joseph.
Rosemary will be missed. Rest in peace, Dear One.