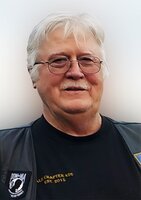 John E. Daggett

November 24, 1949 - January 29, 2023
John Ervin Daggett. Age 73 of Wyandotte.
Beloved husband of Toby. Loving father of Mike (Rita) Daggett and Tammy (Kevin) Hall. Dearest grandfather of Lacey, Joy, Shawn, Savanna and Dylan. Dear brother of Vaughn "Sonny", Robert, Lewis, Amy and Mary. Also survived by nieces and nephews.
Family Tribute ~
John is a retiree from US Steel Corporation, he was a crane operator and was heavily involved in the Local 1299 union for many years. Prior to John working at Great Lakes Steel at the time, John entered the USMC in 1969 to protect and serve our country where he was Honorably discharged in 1972.
John devoted his time to the Marine Corps League / Downriver Detachment #153 where he served as the commandant during 2016, 2017, 2020 and 2021. Also he was an active Charter Member of the American Legion Riders Michigan Chapter of Trenton, MI and active member of the VFW of Trenton and a member of The Devil Dogs.
John loved to go camping, taking random road trips whether it being in his truck or letting the wind hit his face on his motorcycle. John also enjoyed sitting at home relaxing and watching westerns from morning to night and talk about politics and history.
John was a devoted husband, father, and papa.