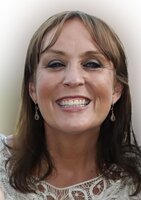 Kimberly Denise Tarjeft
April 8, 1968-March 3, 2023
Kimberly Denise Tarjeft. Age 55 of Wyandotte.
Loving mother of Maroun Arnaout, Marie Arnaout, and Angelena Arnaout with husband Alex Bakaitis. Beloved daughter of Joan Piccoli and the late August Piccoli. Proud grandmother of Crozby, Atlas, Leo, and Owen. Adored sister of Kenneth Piccoli. Also survived by many nieces, nephews, cousins, friends, and her dog, Bosco.
Kimberly followed Jesus and lent a helping hand her whole life, serving those in need and those she cherished. Kimberly loved with a jovial spirit and had a tenacity for seeing the potential in all things. She had a gift and a passion for uplifting others and bringing new life to the broken. She was a fantastic cook, frequently sang karaoke and loved sharing the word of God.