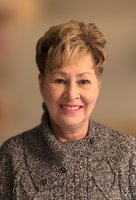 Shirley Ellison
July 11, 1951 – December 19, 2018
Shirley Ellison. Age 67 of Riverview.
Beloved wife of Clarence "James" Ellison. Loving mother of James (Stacy) Ellison, Kimberly Harris, Jeffrey (Dena) Ellison and Michael (Tera) Ellison. Dear sister of Sandra Kosick. Also survived by 6 grandchildren.
FAMILY TRIBUTE
Shirley attended Schafer High School in Southgate, Michigan. She graduated in 1969. Following her graduation, Shirley worked at Great Lakes Steel. She worked there for 7 years where she met her husband Jim. Shirley quit shortly after she became pregnant with Mike. She finished her career as a professional homemaker and General of the Ellison household. Shirley joined the Auxiliary at Wyandotte hospital in 2012. While there, Shirley not only spent time with the cancer patients, but hand made them plush comfort blankets. She provided the cancer patients these blankets and inspirational quotes.
She wanted to do this to let them know they were still cared about. Shirley although having depression, carried a positive attitude around people and always wanted the best for others. She was an extremely caring and loving woman, that would do anything for her family. Shirley was extremely intelligent and was always trying to continuously improve herself. She had a great sense of humor and loved to laugh with people and was able to laugh at herself. Several years back, Shirley was diagnosed with Waldenstrom Macroglobulinemia cancer.
Rather that choosing to be a victim of cancer, she decided to become an advocate for finding a treatment. She regularly gave blood for her testing and also gave extra blood for the Dana Farber research. She even petitioned the state government for help in pursuing affordable care for those being diagnosed. Shirley loved to read, exercise, garden, and needlepoint. She made several special keepsakes for her children and grandchildren that memorialized particular milestones of our careers. Shirley absolutely made it her mission to help others and care for others in need. She passed that same sentiment on to her kids. Shirley was the General of the house though and ran a tight ship. She demanded a lot out of her kids and we all appreciated how we were raised because it made us into the people we are today. She always taught us right from wrong and the value of "doing on to others as you would want to be treated." Shirley loved to travel. She visited all 50 states and covered 48 of those in their motor home. She also was able to reconnect with family in France and visit her family while they were in Germany. She also had the opportunity to go on several cruises throughout the world. Shirley had a chance to be a snowbird in Florida for a couple of years.
Shirley also visited several places in Michigan to include spending time this past summer, roughing the outdoors with her kids and grandkids in the Upper Peninsula. Shirley has always loved animals. She has had 2 Yorkies, 1 of which passed away a few years back. Her name was Nikki. She also has a Yorkie that is living. Her name is Bella. Shirley loved her dogs! Shirley would want to be remembered by, and her family wholeheartedly agrees, that she was a wonderful daughter, wife, mom and grandma to her family.