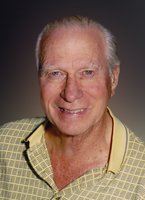 Kenneth Thomas Dussia
December 20, 1935 - May 12, 2019
Kenneth Thomas Dussia, 83, died peacefully in his home in Harrison, Michigan in the early morning hours of Sunday, May 12 following his ongoing struggles with the progressive conditions of Hydrocephalus and Parkinson's Disease. He leaves behind his three children and their spouses, Timothy Owen and Shelia Dussia. Matthew Bernard and Beth Dussia. and Annette Marie and Diane Hart and their families, as well as many extended family members and friends.
Born 12/20/35 to Bernard and Mabel Dussia as the youngest of 11 children. He was raised in Trenton, Michigan where he graduated high school. After serving 2 years in the Navy he met and married his beloved wife of almost 55 years, Margaret Mary Kean, on September 2, 1961. He in turn raised his children in Trenton. He enjoyed an over 30 year career working for Ford Motor Company. He loved his retirement years with his wife as they purchased a second home in Florida where they were 'snowbirds' for many years and spent much time with his children and grandchildren. His wife passed 5/13/16 and soon thereafter he moved next door to his son Matthew where he received loving care until his passing.
Kenneth had a passion for social gatherings and boisterous humor. Please help us celebrate his life if you are able at the Molnar Funeral Home in Brownstown, Michigan. Visitation is offered Friday, May 17 from 11:30 AM to close at 9:00 PM with a sharing service planned from 6:00 PM-7:30 PM. The following day there will be a brief viewing beginning at 9:00 AM and memorial service at 11:00 AM, followed by a procession to the Michigan Memorial Cemetery where there will be a brief burial service.