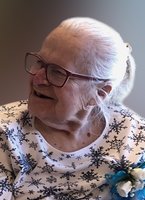 Virginia M. Swanson
January 6, 1927 – May 13, 2019
Virginia M. Swanson. Age 92 of Woodhaven.
Loving mother of David E. (Kathleen) Swanson, Kenneth (Katherine) Swanson and Douglas (Alison) Swanson.
Dear sister of Evelyn (Victor) Pasque. Also survived by 7 grandchildren and 3 great grandchildren. Preceded in death by husband Leo E. Swanson and sister Ruth Carrier.
Memorial contributions are appreciated to Unity Worldwide Ministries.
Family Tribute
Raised in the City of Detroit near Chandler Park, Virginia was the second of three daughters of George and Helen Adams. She was an excellent student and graduated from Southeastern High School with a 4.0 GPA. After her school years, she worked for the McCann Erickson advertising agency located in the Penobscot Building downtown using city bus transit. She met Leo Swanson after his honorable discharge from the US Navy, where he was injured during the combat service near Okinawa and earned a Purple Heart decoration. Leo and Virginia were married in April 1951 and had three children: David, Kenneth and Douglas.
After her husband passed in October 1972, Virginia had to begin a new career and took the Civil Service exam that eventually led to a 25-year career working for the Secretary of State at several offices in the Downriver area. Along with her hard work, Virginia enjoyed having fun and arranging social gatherings at home and with her close friends and family. Halloween parties, Bridge club nights, NAIM (Widows & Widowers Group) events, hosting a Cabrini High School Prom After-Party, and holiday gatherings were it was a joy for her to tell stories, share memories and have a good laugh. She was also a St. Francis Cabrini Eucharistic Minister.
Virginia prioritized family and her love for them was unapologetic and ever-present. Her pride was over-flowing for her children, grandchildren and great-grandchildren. A hug and kiss were the words to convey the joy they all brought to her life. Gift-giving was a focus. Assuring that all of the children of each family received their cards or gifts at the same time by packaging them together or assuring everyone had the same "popular gift of the year" for birthdays or Christmas was her passion.
She was compassionate, actively engaged to support those she loved at any time and defended them with fierce determination without hesitation. Virginia Swanson was a source of energy and guidance for everyone around her. We will all miss her light.