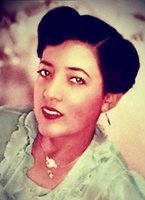 Rosa Consuelo Clark
September 2, 1923 – November 29, 2019
Rosa Consuelo Clark. Age 96 of Wyandotte.
Beloved wife of the late Thomas Godfrey Clark. Loving mother of Marco (Margarita) Clark, Donald Clark and Rosemary Cindy (Winston) Cannon. Dearest grandmother of Cory (Hallé) DiMaria, Danielle (Jacob Sutherland), Adrian, Elena, Thomas and Alexandra. Dear great grandmother of Clark and Viviana. Sister of Luzmila and Mariana Olmedo. Also survived by extended family Lisa Adams, Frank and Joyce Adams and family. Rosa is preceded in death by her parents Carlos and Maria Olimpia Olmedo, brothers Alejandro, Guillermo and Teofilo Olmedo and sister Isabel.
Rosa was born in Quito, Ecuador, where she obtained her license for registered nursing. She worked for the Ecuadorian Department of Health and was granted a fellowship to do further studies in nutrition in Guatemala, Mexico, and the United States. Rosa met and married Tom Clark in New York.
Memorial donations appreciated to St. Vincent Pallotti Parish at St. Joseph Catholic Church.