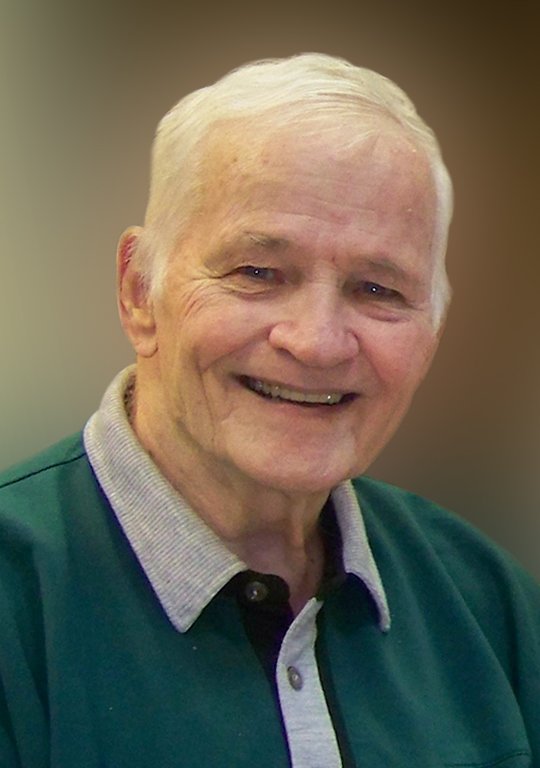 Share Your Memory of
James


Obituary of James A. Walsh
January 18, 1929 – July 28, 2020
James A. Walsh. Age 91 of Southgate.
Beloved husband of Bernadine Walsh. Loving father of Patricia (Larry) Reaume, James Walsh, Mark (Sue) Walsh, Mary (Michael) Taylor, Joseph (Colette) Walsh, Kelly (John) Mitroka, Brian (Tammy) Walsh and Lisa (Jim) Blaszczak. Also survived by 20 grandchildren and 17 great grandchildren.
Family Services will be held.
Family Tribute
James Walsh was born on January 18, 1929, to Helena and Patrick Walsh. He had 4 brothers, Pat, Mike, Carl, and Dave.
He attended and graduated from Catholic Central High School in 1947. From there, he joined the Seminary but left after just one year.
After that, he worked at the National Bank of Detroit where he met the love of his life, Bernadine Czapski (chop-ski).

He was drafted into the army during the Korean war and served at the Pentagon building until he was discharged in 1950.

While on leave one Christmas, he went back to NBD to visit his co-workers. On Christmas Eve, he asked Bernie where she was going and she said, "To Midnight Mass, want to come?". So, in essence, she asked him out on their first date, and it was to church!

After his discharge from the Army, he returned to NBD as a supervisor and then married Bernie. After years of raising children and attending college part-time, he earned a bachelor's degree from the University of Detroit in 1960. He continued to work several jobs throughout his life but retired from Great Lakes Steel in the early '90s. Here he performed the extremely strenuous work at Zug Island, being a Millwright and climbing on machinery to maintain them. Back-breaking work indeed!

Jim and Bernie were married for 67 years. They had 8 children: Patricia, James, Mark, Mary, Joseph, Kelly, Brian, and Lisa. Mark remembers walking to the bus stop on Fort Street to greet him after work.

So many years of memories, but the biggest one was that Dad was at EVERY single sporting event for EVERY one of his children. (Even cheerleading, which some of us say isn't really a sport). He even coached some. He was out of his element, but lack of coaches meant that Dad stepped up. He gave excellent advice to his children like, "Get in front of that damn ball and let it hit you in the shin….that'll heal but you saved it from the outfield". Or "Let that pitch hit you—take one for the team!" We also remember that we had to sell HUGE amounts of candy bars to earn a free A2000 mitt. (Patti still has hers). He would drive us around to stores and bars along Dix-Toledo selling those candy bars! He even had the brilliant idea to take the younger siblings with the older kids because they were cute, and the bar patrons would buy more from the cute kids. It worked! At least 6 of us earned at least one A2000 mitt. One of the highlights of selling that candy, however, was when people would give us money but not take the candy bar. We'd say, "Wow! We can keep the candy?" and Dad would say, "No. You're going to sell it!" And dedicated? For sure! When teaching Brian to pitch, he would be the catcher and he used Lisa as a batter. He told Lisa, "Don't swing, in fact, don't even move." Well, Brian wasn't the greatest pitcher and beamed Lisa right in the head. After carrying her into the house and making sure she was ok, Dad said, "Well she listens. She didn't move!"

Although Dad gave freely of his time, money was a different matter. Boy was he stingy! He didn't want to waste electricity so he would unplug the automatic garage door opener. Every time he wanted to open the garage door, he climbed on the ladder, plugged the opener in, then opened the door. And batteries! When not in use, there was never a battery in any remote or flashlight in the house! Now every once in a great while, we got to eat fast food. Of course, he had to buy 50 White Castles at a time to feed the family. But a true testament to his stinginess was on that rare occasion when we got to go to McDonald's. Dad knew the menu by heart, and he figured the price out to a T. None of the kids wanted to go into McDonald's to order because Dad would give you the EXACT amount that the McDonalds bill should have totaled. Although he was rarely incorrect in his calculations, how embarrassing it was if you were a few pennies short! And haircuts? Only the barber college would do—where the students were literally practicing on you. Some even remember, at the A&W, Dad would physically stand in line at the drive-through without a car. He certainly wasn't going to waste gas while the car idled.

Dad also worked on his own cars. The boys remember laying out in the backyard under the car during freezing wintertime and scorching summertime holding the flashlight while he worked on the vehicles. We all remember watching him bust his knuckles on every repair job he did! But he got the job done. Mom remembers that he would call her outside for her to watch him take something apart—so that she could tell him how to put it back together. And do we need to even discuss that Gold colored 1967 Chevy station wagon? Dad showed Patti and Mary how to change the oil in the car and change a tire. He said that everyone needed to know how to do that!

Dad was a Godly man. He rarely missed mass. Now, he wouldn't shake your hand before communion or take communion from anyone other than the priest, but he rarely missed mass. Even when we were little. All ten of us would pile into the pew at St. Pius and were not allowed to speak. Mom received so many compliments on our behavior. Dad knew just about every prayer by heart.

Brian remembers the Father and son night at Heintzen school. He and Dad won the free throw competition when Dad hit 5 for 5 underhand potty style shots. Brian was embarrassed until he saw how good Dad was. He also remembers Dad bringing him home a silver trumpet even though he probably thought it was girly. And how the two of them went to the Breslin Center to watch Izzo and the Spartans (Go Green) in person and ate their bag lunch in their seats. He fondly remembers getting hurt in second grade and Dad picking him up from school—with a piggy-back ride to the car. Brian remembers Dad trying his hardest, every year, to make us a backyard ice rink, and sending him back to college on Sundays with a $20 bill, even though he knew that he couldn't afford it. And Dad paying off the loan that he used to go see the Spartans (Go White) at The Rose Bowl because "Paying interest was not going to happen!"

One of the funniest memories (well, funny now) was that of the alarm clock. When the girls had a date over, and it was getting late, Dad would wind up that manual alarm clock right in front of the couple. A certain clue that the date was over. And never calling people by their name—always making up a name for them.

Mom remembers that every Halloween, Dad would pass out candy and comment on all the little kid's costumes and simply adored visits from the grandkids in their costumes.

And the kids remember Dad driving mom to the store—where he would get a bag of popcorn and head to the television section or sleep in the car while she shopped.

Even though Lisa is a teacher, she still called Dad to get his advice on proper grammar/English—even though sometimes it was 5th-grade grammar! And Joe says he remembers Dad cracking Easter eggs on our heads to start the peeling process.

A big passion of Dad's was his Alma Mater, the all-boys school – Detroit Catholic Central. Dad was a halfback speedster on the football team, played basketball and was a
Southpaw on the boxing team. He must have had a tremendous experience while attending since he followed the school's sports teams non-stop for 73 years after graduation. No matter what the conversation with Dad was, he would transition into "Central is going to have the greatest team ever this year, Bar None!" His devotion to Catholic Central's teams was more intense and constant than some people have for college or professional teams.

Such an extraordinary life. So many memories. Much love.
Instate
9:00 am
Saturday, August 1, 2020
St. Pius X Catholic Church
14101 Superior Street
Southgate, Michigan, United States
Mass
10:00 am
Saturday, August 1, 2020
St. Pius X Catholic Church
14101 Superior Street
Southgate, Michigan, United States
INTERMENT
Holy Sepulchre Cemetery
25800 W 10 Mile Road
Southfield, Michigan, United States
(248) 350-1900
CELEBRANT
Father Bob McCabe
Our History
John Molnar, Sr. opened the Detroit Hungarian Funeral Home, now the Molnar Funeral Homes, in 1923. The funeral home began in his home until relocating across the street to it's Delray location at 8623 Dearborn Avenue, in 1936. He had a strong work ethic and believed that you should never stop learning...