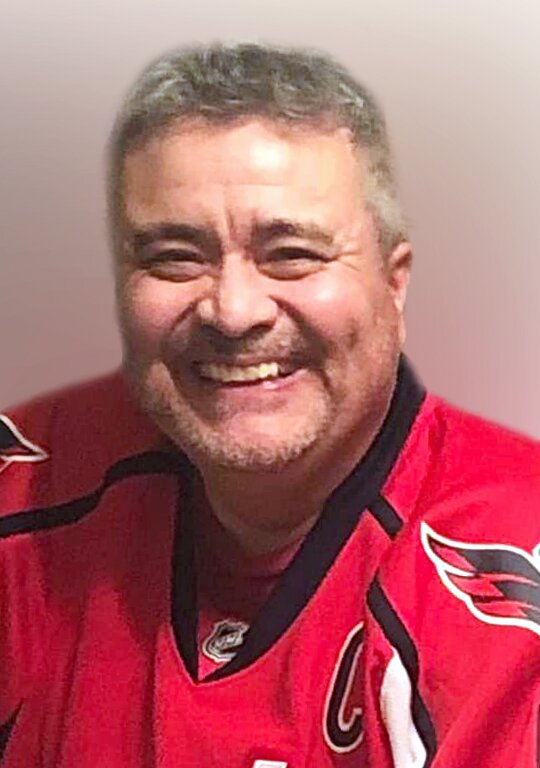 Share Your Memory of
Edward


Obituary of Edward D. Lundstrom
Edward (Ed) Daniel Lundstrom, 59, passed away on January 10, 2022, in the ICU at Beaumont Hospital in Dearborn, Michigan. He suffered from the ravages of the COVID-19 virus and the separation from his much-loved family who were not allowed at his bedside and only allowed to talk to him thru a Video screen. Ed was born in Valentine, NE to the late Richard H. Lundstrom and Donna M. (Shaw) Munoz on June 2, 1962. He attended several primary schools and graduated high school from St. Francis Indian School in 1980. Shortly after graduating, and while attending the University of South Dakota (USD) he proudly joined the Marine Corps, Officer Training program, and eventually earned his bachelor's degree in Criminal Justice/History from the USD in 1984.
Ed was fiercely private, quiet, and humble. He mentioned to his family in passing, and without fanfare, that he had earned his master's degree from the Naval Postgraduate School in 2013. While in the Marine Corps Ed's various assignments included: Commander/Instructor at Basic School in Quantico, VA; Observer with the United Nations in Kuwait and Western Sahara Africa where he worked with various NATO Soldiers; Operations Officer in Okinawa, Japan where he interchanged training plans with the Japanese self-defense force and Military Deputy and Materiel Fielding Team Chief for the Project Manager, Joint Lightweight Howitzer at Picatinny Arsenal, NJ. During his time in the Marine Corps Ed was able to travel worldwide. After 22 years of selfless dedication and service to the USMC Ed retired and shortly after joined the civilian workforce at US Army Tank Automotive Command in Warren, Michigan.
While at TACOM Ed's assignments included acting Deputy and Program Officer, Fleet Manager in Product Manager, Fire Support Systems, Program Officer, Large Army Ordnance Systems in Product Manager Sets, Kits, Outfits and Tools, and Deputy Product Manager Robotics and Autonomous Systems. It was during his work at TACOM that he and Silvia Rivero met. Their first interchange was when Ed took artistic liberty over a logo that Silvia used for her program and chose to use it for another program under his office. She was not happy about this and decided to give him a piece of her mind and after that one encounter, he knew she was the one for him. They became co-workers, friends and shared a love for sports and family.
Ed proposed by Lake Michigan after walking down a 350 step stairway and they were married in South Carolina by the Ocean, a wedding they planned within a month timeframe. Six years later they welcomed his two nephews into their home to raise as their own and as a family spent many happy times together. Ed loved to grill and was becoming quite good with the smoker too. He became a Soccer coach for a summer and was always the one to take the boys to their basketball, soccer, and football practices.
Ed is survived by the love of his life, his wife Silvia Rivero, his nephews/sons Brett P. Lundstrom and Damian (Buddy) Lundstrom, son Edward D. Lundstrom, Jr. (Carrie Little Crow), and his grandson Liam of Thornton, Colorado. He is also survived by his mother Donna Munoz, sister Mary Munoz, brother Joseph Lundstrom all of Thornton, CO, brother Robert Prue (Deon) of Lawrence, KS, mother-in-law, Mrs. Marta Rivero, sister-in-law's, Marta Rivero-Perry and Jacqueline Simons, and nephews and nieces Amanda, Victoria, Richard II, Ariana, Taylor, Erica, Ariel, Kaeli, Madison, Adam, Noah, Ayris, Treson, Jory, Marlee, Joshua, Aedan, and Jonas.
Ed is also survived by numerous grandnieces, grandnephews, cousins, aunts, uncles, and friends. Ed will forever be remembered by his love of family and friends and that he gave selflessly to all. Ed never forgot a birthday, anniversary, holiday, or any special date for all those he loved. Ed is preceded in death by his son CPL Brett L. Lundstrom, father, Richard H. Lundstrom, brother Patrick Lundstrom, brother-in-law's Richard J. Munoz, and Christopher Simons.
Visitation for Ed will be on Friday, 21 January, at John Molnar Funeral Home on 14032 Northline Rd in Southgate. The viewing will be held from 1-9 pm. There will be a Rosary service at 5 pm which will be live-streamed. Mass will be held on Saturday, 22 January, at St Cyprian, 13249 Pennsylvania Rd, Riverview at 10 am with In-State at 0930 at the church. There will be a procession following to Our Lady of Hope Cemetery in Riverview. A military service will be held at the cemetery chapel.
Memorial contributions are appreciated to St. Francis Mission in his honor.
The Rosary Services were lived-streamed and recorded. To view the recording, please click the following link: Service Video.
Visitation
1:00 pm - 9:00 pm
Friday, January 21, 2022
Molnar Funeral Home - Southgate Chapel
14032 Northline Road
Southgate, Michigan, United States
(734)285-1515
Rosary
5:00 pm
Friday, January 21, 2022
Molnar Funeral Home - Southgate Chapel
14032 Northline Road
Southgate, Michigan, United States
(734)285-1515
Instate
9:30 am - 10:00 am
Saturday, January 22, 2022
St. Cyprian Catholic Church
13249 Pennsylvania
Riverivew, Michigan, United States
Mass
10:00 am
Saturday, January 22, 2022
St. Cyprian Catholic Church
13249 Pennsylvania
Riverivew, Michigan, United States
Interment
Our Lady of Hope Cemetery
18303 Allen Road
Brownstown, Michigan, United States
Celebrant
Father Marc Gawronski