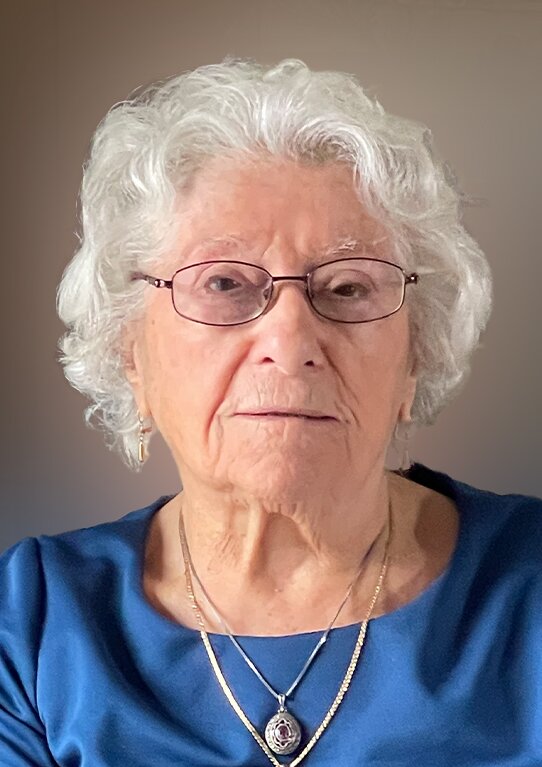 Share Your Memory of
Emily


Obituary of Emily Notargiacomo
September 30, 1927 – January 13, 2022
Emily Notargiacomo. Age 94 of Southgate.
Beloved wife of the late Frank Notargiacomo. Loving mother of Bernard Notargiacomo, Louanna (Jacob Ulvila) Notargiacomo and Donna (Tim) Doyle. Dearest grandmother of Alexander, Anthony, Brian, Alicia and the late Vinnie. Dear sister of Connie Sgambati.
FAMILY TRIBUTE
Emilia (Emily) Settimia Notargiacomo was a most beloved mother, grandmother, sister, aunt, and friend. At the age of 94, Emily passed away peacefully on 13 January 2022 at her home in Southgate surrounded by her children. Emily was born on 30 September 1927, in Bagnoli del Trigno, Italy to Candida Vespa (neé Minni) and Pietro Vespa. She had a long, wonderful, and difficult life including living in Italy during World War II when under invasion by the Germans and its subsequent liberation by American and Canadian forces.
She immigrated to the US after World War II at the age of 20 and was reunited with her entire immediate family. She said this was one of the happiest times of her life. A few years later she got engaged to Frank Notargiacomo on 4 March 1950 and was married on 1 July 1950 at Holy Cross Church in Delray Michigan. Emily was smart, creative, energetic, hardworking, and a perfectionist. She said that if she had been born in a different time and place, she would have been a doctor or a lawyer. She was perpetually curious. She put her family above all else, would always try to help others, and did not know how to say "No."
She was a great cook and baker, seamstress, and was constantly crocheting or knitting. As recently as a few weeks before Christmas she was making cookies, raking leaves, making sausages, and driving. We expected her to live forever.

Emily is survived by her three children, Bernard Notargiacomo, LouAnna Notargiacomo, and Donna Doyle, her sister Connie Sgambati, and her grandchildren, Alex Ulvila, Anthony, Emanuele, Brian Doyle, and Alicia Suydam. She is preceded by her parents, her sister Josephine, her brothers Victor and Tony, her husband Frank, and her grandson Vinnie.
Visitation
1:30 pm - 9:00 pm
Wednesday, January 19, 2022
Molnar Funeral Homes - Southgate Chapel
14032 Northline Road
Southgate, Michigan, United States
Rosary
7:00 pm
Wednesday, January 19, 2022
Molnar Funeral Homes - Southgate Chapel
14032 Northline Road
Southgate, Michigan, United States
Instate
10:00 am - 10:30 am
Thursday, January 20, 2022
St. Pius X Catholic Church
14101 Superior Street
Southgate, Michigan, United States
Mass
10:30 am
Thursday, January 20, 2022
St. Pius X Catholic Church
14101 Superior Street
Southgate, Michigan, United States
Entombment
St. Hedwig Cemetery
23755 Military Road
Dearborn Heights, Michigan, United States
Celebrant
Father Bob McCabe