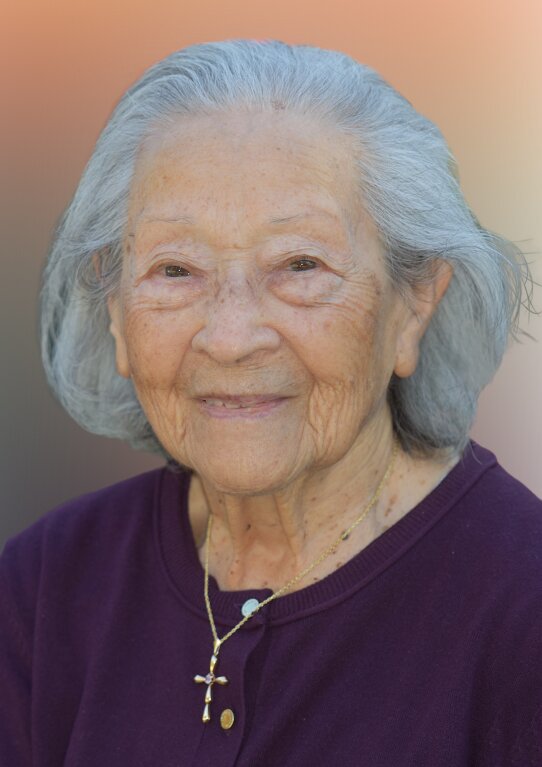 Share Your Memory of
Marta


Obituary of Marta Elsa Rivero
Marta Elsa Rivero was born in Tucuman Province of Argentina on September 19, 1927. Her mom came from a large Spanish family and she was the cook for an affluent family. Her father was born in Argentina but his father was Sicilian and his mother was Calabrese. During her younger years her dad, who worked in the docks, moved to Santa Cruz, Argentina, which is in the southern part of the country. She would later say that being in Michigan reminded her of Santa Cruz because of the shape of the houses. While down there her brother was born when she was 10 years old. He was born with Down Syndrome and she helped to take care of him. Something that continued for the rest of his life. During her high school years the family moved back to Cordoba, and she completed high school there. She attended a vocational school where she trained to be a teacher with a specialty in weaving. She taught for a few years in Villa Concepcion del Tio, which was in the countryside in the outskirts of the city of Cordoba.
While on a trip to the city with a few girlfriends that worked with her she met a handsome young man named Guillermo Alfredo Rivero while dining in a café. Guillermo was a carpenter and built the frames for airplanes for Fabrica Militar de Aviones (FMA) which was located in the city of Cordoba. They started talking and it seemed to just click. They made trips back and forth to visit each other and were engaged for two years. On 29 November 1952 they were married in the church of Corazon de Maria in Cordoba city. Marta moved to the city where Guillermo and she started building their house in the city of San Martin. Growing up she would tell her girls how she helped in moving the stones that adorned their home on the outside, and how she helped their dad with the construction. She was always so proud of that house. She became a homemaker and three years later their first daughter was born followed by a second daughter a little over six years later. Guillermo always talked about moving to a different country for better job opportunities and education for the girls and Marta was willing to make the move with him. He had two chances that came up during that time, one to Canada and another to Australia which he eventually turned down because his family was against the move. Then in 1969 he had friends that moved to New York and California and they told him of the opportunities available in the United States. This time the decision was made for the Rivero family to move to the United States, no matter what. Guillermo made the move in November 1968 while Marta and the girls stayed behind and were in charge of packing up all their belongings, selling their personal property, and leaving their home ready to lease. On February 2, 1969 they made the long trip over with the girls not knowing a word of English.
Guillermo started working at the Woodhaven Stamping Plant of Ford Motor Company and stayed there for 20 years until his retirement. Marta continued to be a homemaker and on 25 November their third daughter was born, so she was busy taking English classes and taking care of the baby. Around five years later the oldest started college, she knew that she wanted to help her with the college expenses and to help Guillermo who was the sole provider for the family. Still knowing little English and at 47 years of age she found a job working for Fischer Body in Livonia, a subsidiary of General Motors. Her job was to sew car seats and although she knew how to use a sewing machine for clothes, using these machines and doing this job was much harder on her hands and body. In order for the girls to always have a parent at home she took the afternoon shift while Guillermo took the morning one. Even with going to work in the afternoon she made sure she left dinner made and ready to heat up – "trying to make it easier on dad and the girls". Family vacations to Florida and South Carolina were always an adventure that created many great memories and conversations for years to come. Her happiness was always having the family together and content.
In 1988 Guillermo was diagnosed with colon cancer and Marta took him to all his tests and treatments while she continued to work and take care of the family. He was in remission for a short time, when in late 1992 it relapsed and was in a more critical state. At this point Marta decided it was time to retire so she could devote all of her time to care for him. After 20 years she retired in February of 1993 but unfortunately Guillermo succumbed to his illness on April 15 of that year; she was filled with great sorrow. In January of 1994 she welcomed her first grandson, Joshua, who kept her busy and instantly filled her heart with love again. This new life made the family feel alive again. For the next 28 years she participated in two weddings for Jacqui and Silvia, the birth of two more grandsons, Aedan and Jonas, welcomed two more boys into the family whom she loved as grandsons, Brett and Damian, and endured two funerals within three months of each other for her two loved sons-in-law, Chris and Ed. Marta was the nucleus of the family, the strength when facing tragedies and the happiness during good times.
Marta entered into Eternal Life on April 11, 2022 after surgery to mend broken bones on both legs which she sustained after a fall, she was 94 years old. Marta was preceded in death by her beloved Guillermo A. Rivero, parents Salvador and Sabina Cilenti, brother Salvador Cilenti, and son-in-laws Christopher Simons and Edward Lundstrom. She leaves behind her daughters Marta Rivero-Perry, Jacqueline (the late Chris) Simons, and Silvia (the late Ed) Lundstrom; 5 grandchildren; Joshua Perry, Aedan and Jonas Simons, Brett and Damian Lundstrom; much loved nephews, niece-in-laws, grand-nieces, grand-nephews, and dear friends. A devout catholic, Marta will be remembered for her faith, dedication, and love of family, for raising her daughters & grandsons, teaching them life lessons they will carry in their hearts forever. To quote Thomas Walder "It's hard to turn the page when you know someone won't be in the next chapter, but the story must go on."
Visitation for Marta will be on Tuesday, April 19, at John Molnar Funeral Home 14032 Northline Rd. in Southgate. The viewing will be held from 1-9pm. Mass will be held on Wednesday, April 20, at St. Cyprian 13249 Pennsylvania Rd, Riverview at 10am with instate at 9:30 at the church. There will be a procession following to Our Lady of Hope Commentary in Riverview. Services will be held at the cemetery chapel. In lieu of flowers, please consider donations to: St. Jude Children's Hospital.
Visitation
1:00 pm - 9:00 pm
Tuesday, April 19, 2022
Molnar Funeral Home - Southgate Chapel
14032 Northline Road
Southgate, Michigan, United States
Instate
9:30 am - 10:00 am
Wednesday, April 20, 2022
St. Cyprian Catholic Church
13249 Pennsylvania
Riverivew, Michigan, United States
Mass
10:00 am
Wednesday, April 20, 2022
St. Cyprian Catholic Church
13249 Pennsylvania
Riverivew, Michigan, United States
Interment
Our Lady of Hope Cemetery
18303 Allen Road
Brownstown, Michigan, United States
Celebrant - Father Marc Gawronski
Our History
John Molnar, Sr. opened the Detroit Hungarian Funeral Home, now the Molnar Funeral Homes, in 1923. The funeral home began in his home until relocating across the street to it's Delray location at 8623 Dearborn Avenue, in 1936. He had a strong work ethic and believed that you should never stop learning...