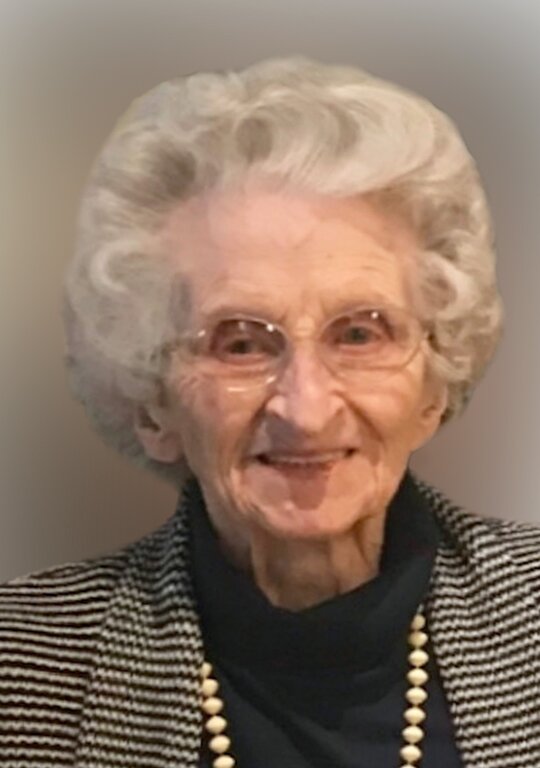 Share Your Memory of
Bernis


Obituary of Bernis Fox
September 14, 1920 - May 19, 2022
Bernis T. Fox. Age 101 of Brownstown.
Beloved wife of the late David A. Fox. Loving mother of Deborah (Mark) Nyholm, Dale (Bridget) Fox and Brian (Lori) Fox. Dearest grandmother of Matthew, Kathryn, David, Kellie, Robbie, Brittany and Elizabeth. Great grandmother of many.
Family Tribute
Bernis Tuttle Fox lived a full and amazing life of 101 years and 8 months. She was born on September 14, 1920 in St Paul. Minnesota and passed away on May 19, 2022, at Downriver Estates Assisted Living on Allen Road in Brownstown. Bernis was preceded in death by her husband of 61 years, David A. Fox. She is survived by her daughter Deborah (Mark) Nyholm of Flat Rock, son Dale (Bridget) Fox of Grand Haven and son Brian (Lori) Fox of Vadnais Heights. MN. Dave and Bernis were blessed with and survived by 7 grandchildren: Matthew Nyholm, David Nyholm. Kathryn Nyholm Overcash, Brittany Fox, Elizabeth Fox, Kelli Fox and Robert Fox. They also have 12 great-grandchildren.
At age 2, her family moved and she was raised in Chowchilla, CA. She began taking piano lessons as a child and that love of music carried with her throughout life. She received a BA degree from the College of the Pacific in Stockton, CA, in 1942, with a major in music and a minor in health. Her first teaching job was in a beautiful mountain town in northern California where she was band director, taught girls choir and PE. After 2 years of teaching, she chose to serve her country. She was accepted into the Red Cross program as an entertainment worker. She played piano and ran clubs that soldiers could safely visit while on leave. She was first stationed in the Philippines then in Korea. Bernis met 1LT David A. Fox in Korea, when he was touring a club as a potential location to take his men. They "dated " in a jeep checked out from the Army motor pool. WWII ended and they returned home. They were married in Chowchilla in 1947 and moved to Dave's hometown of Wyandotte, MI.
Bernis immediately began teaching music and gym in Wyandotte public schools. She took time off to have three children and taught piano lessons in her home. She returned to teaching music and earned her master's degree in education, from WSU. She was a Wyandotte elementary instrumental and vocal music teacher for many years, traveled to several schools, and taught a whole generation how to read and love music and to play instruments. When instruments needed repairs she took them home to David and he fixed them. She ensured her three children had some piano skills and learned to read music. Bernis retired from teaching in 1968.

In 1975 the couple purchased the home Dave was born in on Van Alstyne in Wyandotte and spent many happy years there on the water. In retirement, they traveled extensively, including trips to Australia, South America, the Caribbean, the Panama Canal, and visited all 50 states. Bernis and Dave were very active in the First Presbyterian Church on Oak in Wyandotte. Bernis taught Sunday school, sang in the choir, played piano, and participated in many church events. She remained a member until the church closed its doors on September 24, 2017. Bernis played piano at the final service. In 2015 the family hired Laura Moran as a helper and companion. She remained with Bernis throughout the rest of her life and became a treasured family friend.
Bernis will be missed by so many. Her positive attitude and smile, along with her love of music and swimming will long be remembered.
Cremation will take place at The On-Site Crematory located within the Molnar Funeral Homes - Brownstown Chapel.
Our History
John Molnar, Sr. opened the Detroit Hungarian Funeral Home, now the Molnar Funeral Homes, in 1923. The funeral home began in his home until relocating across the street to it's Delray location at 8623 Dearborn Avenue, in 1936. He had a strong work ethic and believed that you should never stop learning...