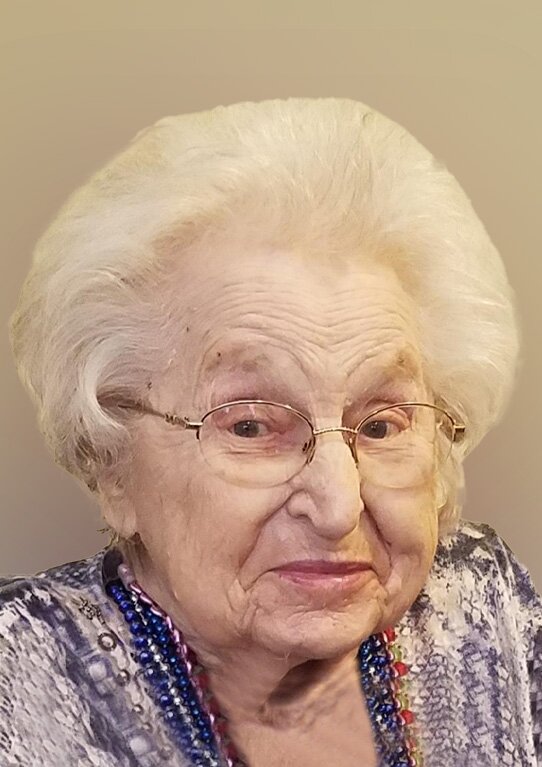 Share Your Memory of
Cecelia


Obituary of Cecelia H. Duarte

March 7, 1924 - October 4, 2022
Cecilia H. Duarte. Age 98 of Southgate.
On March 7, 1924 Polish immigrants Frank and Agatha Holowicki gave birth to Cecilia in their Detroit Home. She was their 4th child, preceded by siblings Chester, Natalie and Sigmund. Her younger brother Louis was born three years later. Cecilia outlived all her siblings.
After the untimely passing of Cecilia's father, her mother moved the family into a home on Brandon Street in Southwest Detroit, which remained in the family until the late 1980's. While Cecilia's mother was working a split shift at the Wayne County Courthouse, Cecilia occasionally would have to take charge and retrieve her younger brother Louis, who had a penchant for skipping school and hanging out at the local railroad yard.
The family was devout Catholics and members of St. Hedwig parish, which led to Cecilia's calling to religious life as a young woman. At the age of 14, with the blessings of her mother, Cecilia entered the convent of Franciscan Sisters of St Joseph whose motherhouse was in Hamburg, NY to complete studies and take a final vow of religious life as Sister Mary Severia. She attended Catholic Teacher's College in Providence and St. Joseph Teacher's College in Buffalo while in the convent. She was eventually transferred to Holy Cross parish in Fall River, MA where she taught grade school and made many lifelong friends. In the late 1950's, due to health concerns, Cecilia left the convent and returned home to Detroit. She completed studies at Mercy College in 1961 with a Bachelor's of Science degree and pursued a career in teaching at several schools in the Detroit area. Fate took her back to Massachusetts where she taught grade school in Westport MA while attending Bridgewater College to complete her Master's in Education Program. Eventually she began teaching at Potter School in Dartmouth, MA where she continued teaching until her retirement. Her total teaching career in Massachusetts lasted 35 years.
While on vacation in Fall River, Cecilia met the second love of her life, police Sergeant Joseph Duarte. It was a long distance relationship, with several flights between Detroit and Fall River until that summer day in 1967 when they were wed. They returned to Dartmouth and spent many years together with their beloved German Shepherd, Sandy in a home built by Joe. Their semi-retirement years in Dartmouth included travels, community work, operations at a local amusement park, start-up of Gem Concrete Corp. and one of her favorite duties, cooking and serving patrons at their local bar, aptly named Cecilia's Palace. Following Joe's passing, Cecilia returned home to the Detroit area to live with her sister Natalie until Natalie's death in 2005.
Cecilia remained a downriver resident and was a member of St. Pius Parish, active in the Altar Confraternity and as a Eucharistic minister. Cecilia was a very spiritual person, caring and always willing to help others. She enjoyed time with family and Southgate Senior travel trips with her sister Natalie. At family gatherings on Thanksgiving Cecilia always insisted on having the turkey neck and a spritzer consisting of white wine and Sprite. Her last few years were at Westlake Assisted Living, where she remained active in arts and crafts classes, bingo and enjoying old movies starring Shirley Temple, Julie Andrews and Bing Crosby. Fittingly, her all time favorite movie to watch was The Sound of Music, the story of a young lady, who leaves the convent and marries.
Cecilia is survived by two nieces, Cynthia and Marlene, three nephews, Chester Jr., Daniel and Ronald, as well as 9 great nephews and nieces.
Instate
9:30 am - 10:00 am
Tuesday, October 11, 2022
St Pius X Catholic Church
14101 Superior Street
Southgate, Michigan, United States

Get Directions
Mass
10:00 am
Tuesday, October 11, 2022
St Pius X Catholic Church
14101 Superior Street
Southgate, Michigan, United States

Get Directions
Celebrant - Father Suresh Rajaian, SAC
Our History
John Molnar, Sr. opened the Detroit Hungarian Funeral Home, now the Molnar Funeral Homes, in 1923. The funeral home began in his home until relocating across the street to it's Delray location at 8623 Dearborn Avenue, in 1936. He had a strong work ethic and believed that you should never stop learning...