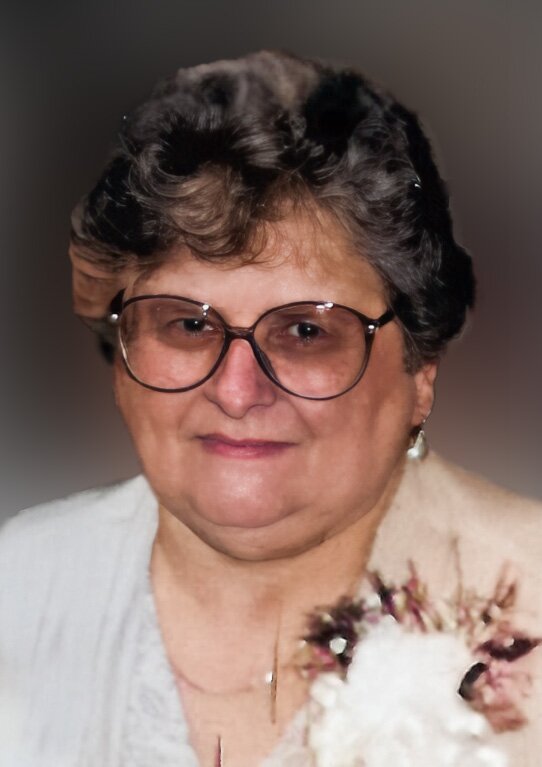 Share Your Memory of
Arlene


Obituary of Arlene Ann James
Arlene Ann James, née Oliver, age 86, passed away on February 28, 2023. Arlene most recently made her home in Riverview, Michigan.
Arlene's later years were saddened by the loss of her husband of 61 years, Donald (Donnie) Ovid James and beloved daughter, Kymberly Jane Harris, wife of Jay Harris. Kym left all of us too soon at the age of 37.
Arlene is survived by children Lynda (John) James-Gilboe, Jerry (Linda) James, and Jeff (Claudette) James. She was blessed with kind, talented, and accomplished grandchildren and great-grandchildren – Abby, Adam, Alexandra, Ashley, Bailey, Benjamin, Kevin and his spouse Emily, Laura, Morgan, Rachel, Sloane, and Zoey and her spouse Eli – who have built or aspire to careers in design, psychology, the sciences, medicine, business, accounting, and more, making Donnie and Arlene very proud.
She also leaves her sister, Janet Broucek; and sisters-in-law Roselynn (Milton) Moore and Judith (Gerald) McParland.
Arlene married Donnie in 1955 and they ran several small businesses during their life together, including a heating oil distribution business, an A&W drive-in, a convenience store, and another store that bore her name, Arlene's Pop Shoppe. She did whatever needed to be done, but in each case, her special contribution was in using her immense artistic talent to create signage.
That talent also manifested itself over the years in beautiful oil paintings portraying many subjects, including a very special painting of herself and her sister, hand-in-hand with their grandfather. She made incredible hooked rugs and wall hangings, even dying her own wool, and created amazing, detailed quilts, a notable one being a quilt that commemorated the September 11 attacks on the United States. She had fun calling herself a "hooker" in reference to her rug-hooking years and once demonstrated her craft in costume at Greenfield Village, part of The Henry Ford, in Dearborn, Michigan.
She was an accomplished knitter and seamstress and used those skills to create sweaters, clothes, and blankets for her family. She managed to perfectly replicate an outfit her daughter was drooling over in Seventeen magazine as a teenager. Wandering through fabric stores looking at patterns, material, and buttons was one of her favorite things to do.
Her artistic DNA can be found in several of her grandchildren and great-grandchildren, and we are all grateful that her legacy will continue through them.
Arlene loved dogs, especially dachshunds, and had several, including Pretzel, Domino, and Speckles. She kept an eye on pet adoption sites, especially to check out the dachshunds. She collected dolls and was an avid reader, with her Kindle always close-at-hand. She enjoyed cooking shows and detective stories and shopping for new gadgets on Amazon.
May Arlene find peace as she rejoins Donnie and Kym. In Arlene's memory, please consider a donation to the Kymberly J. Harris Scholarship in Long Term Care Administration at the University of South Florida. Donations may be made online at giving.usf.edu/online/ to fund 420054 or they may be sent to the USF Foundation, University of South Florida, 4202 E. Fowler Avenue, ALC100, Tampa, FL 33620-5455.
Cremation will take place at The On-Site Crematory, located within Molnar Funeral Homes - Brownstown Chapel.
Our History
John Molnar, Sr. opened the Detroit Hungarian Funeral Home, now the Molnar Funeral Homes, in 1923. The funeral home began in his home until relocating across the street to it's Delray location at 8623 Dearborn Avenue, in 1936. He had a strong work ethic and believed that you should never stop learning...