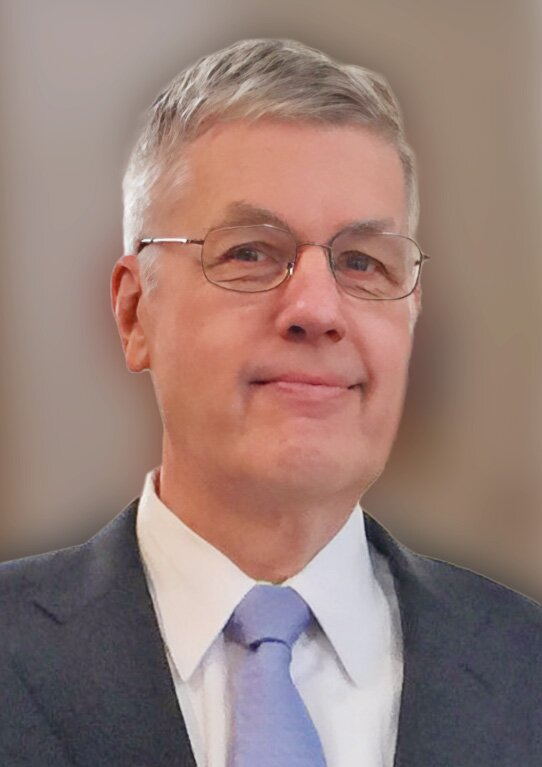 Share Your Memory of
Jacob


Obituary of Jacob Walter Ulvila
May 13, 1950 - June 21, 2023
Jacob (Jake) Walter Ulvila was a beloved and devoted husband and father. At the age 73 he passed away suddenly in Reston, Virginia on 21 June 2023 after his second bout of aspiration pneumonia. He had suffered from a degenerative neurological disease called Multiple System Atrophy for the last 9 years.
Jake was born on 13 May 1950 in Chicago, Illinois one day before Mother's Day. His parents were Finnish and Dutch, and he was the oldest of three boys growing up in Blue Island, a south suburb of Chicago. He was a brilliant and hard-working student, played the trombone in marching band, and loved to play baseball. Jake was very active in his high school and had a great group of friends. More recently he worked to create a college scholarship fund for his school.
He went to University of Illinois originally as a physics major but later transferred to electrical engineering. After graduation, he went to University of Michigan for a Master's in Business Administration and lived in graduate housing next to the dorm where LouAnna lived. They met through mutual friends and he asked her out for their first date when they ran into each other waiting to submit punch card jobs at the computing center.
After graduation Jake moved to the Washington DC area to work at Decision and Designs, Inc. LouAnna and Jake got engaged and had a long-distance romance while she finished college. After her graduation they married on 7 August 1976 and then moved to the Boston area where Jake started in the Doctor of Business Administration program at Harvard Business School. Jake completed his doctoral program and thesis in just 3 years, the fastest then on record, and at graduation he won the Franz Edelman Management Science Achievement Finalist Award from the Institute of Management Sciences, which allowed them to buy their first home.
After Jake's graduation they moved back to the DC area where he worked in the field of Decision Analysis, solving complex problems for the US Government. Jake was the author or co-author of 44 published articles that have appeared in Harvard Business Review, Decision Analysis, Operations Research, and numerous other publications. He also was a visiting professor at the University of Virginia.
Jake and LouAnna had their only child, Alex, after they were married 10 years. They moved from their home in Maryland to Virginia shortly after Alex was born. Jake helped Alex to excel in mathematics and was his biggest coach and advocate, getting him into special programs and working with him. Jake also fell in love with soccer and helped his son with many teams and training programs, taking off work early to shuttle Alex to practices, volunteering for the teams, and helping organize travel soccer trips.
Jake was involved with the formation and management of multiple decision analysis firms as the Chief Financial Officer in addition to being a key technical leader. Jake's last position was running his own company, JWU Consulting, until his retirement on 19 December 2015.
Jake was passionate about art and music, especially opera, jazz, and rock. He was always looking to try new foods and wines, frequently organizing events at their home or large dinners with friends. Jake was a collector all of his life, starting originally with a love for unique US coins (particularly Buffalo Nickels). He spent endless hours reading history books and researching ancient coins. He also loved wine and quickly became and expert with an affinity for Bordeaux, leading to several memorable trips to the Napa, Bordeaux, and Piedmont areas to visit wineries.
Jake actively followed all things sport, with a love of Michigan and Illinois Football, the White Sox, the Chicago Bears, and both US and Dutch soccer. For over a decade he would make sure to watch two hours of sports news every day.
Jake is survived by his wife LouAnna Notargiacomo, his son Alexander M. Ulvila, and his brothers Edwin Ulvila and Michael Ulvila. He is preceded by his parents Toivo and Belle Ulvila.
Memorial Contributions are appreciated to www.MultipleSystemAtrophy.org.
Visitation
2:00 pm - 9:00 pm
Wednesday, June 28, 2023
Molnar Funeral Home - Southgate Chapel
14032 Northline Road
Southgate, Michigan, United States
(734)285-1515
Service
10:00 am
Thursday, June 29, 2023
Molnar Funeral Home - Southgate Chapel
14032 Northline Road
Southgate, Michigan, United States
(734)285-1515
Entombment
St. Hedwig Cemetery
23755 Military Road
Dearborn Heights, Michigan, United States
(313) 562-1900
OFFICIANT - Father Dennis O'Brien
Our History
John Molnar, Sr. opened the Detroit Hungarian Funeral Home, now the Molnar Funeral Homes, in 1923. The funeral home began in his home until relocating across the street to it's Delray location at 8623 Dearborn Avenue, in 1936. He had a strong work ethic and believed that you should never stop learning...