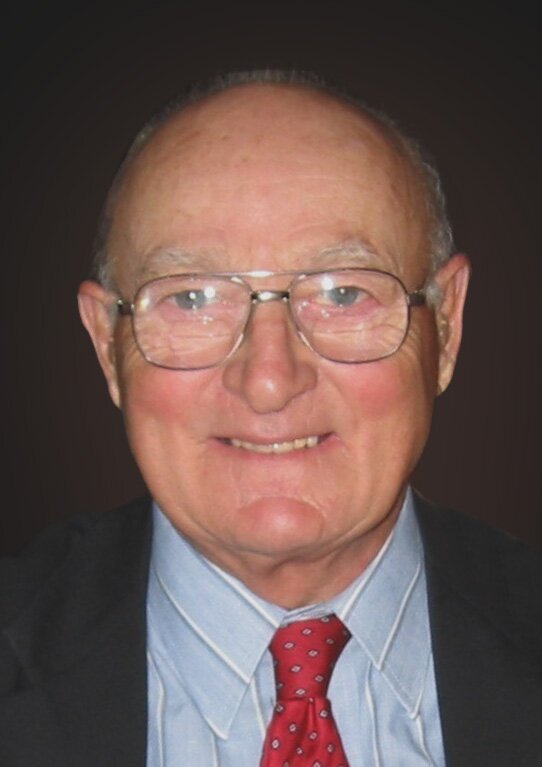 Share Your Memory of
Ernie


Obituary of Ernie Riopelle
January 11, 1933 - July 9, 2023
Ernie Riopelle. Age 90 of Riverview.
Funeral Mass: Friday, August 18 at 10:00 am, St Cyprian Church, 13249 Pennsylvania Rd., Riverview. Memorial Luncheon immediately following in the church social hall.
Ernie Riopelle (Ernest Emmanuel Riopelle, "Deacon Ernie") was embraced into Eternal Life and Love on July 9, 2023.
Ernie lived a life that radiated Love, Joy, Strength, Compassion, and a One-of-a-Kind Humor that uplifted and endeared him to all who knew him.
Ernie was born to Anna Amelda (Gloadt) Riopelle and Edward Charles Riopelle on January 11, 1933—the seventeenth of eighteen children, thirteen of whom lived to adulthood. He often described himself as "The Second to Last". He felt a special bond with his mother, and helped to care for her throughout her life.
Growing up in the middle of World War II, Ernie shouted the global headlines as he sold papers on a street corner in his native River Rouge. He fondly recalled the factory whistles going off the day the War ended. As a youth he attended Our Lady of Lourdes Catholic School in River Rouge, and graduated from Our Lady of Lourdes High School in 1952. He was the first of his large family to graduate high school, and was determined to continue to college.
Ernie attended the University of Detroit, and made a promise to his ailing father to "make him proud and finish college." Ernie kept that promise by earning his Bachelor's Degree in Accounting in 1958. Resolved to better himself even more, Ernie continued his education at U of D, earning a Master's Degree in Business Administration (MBA) in 1963. As a creative soul, Finance might not have been the perfect fit for a career, but as a child of the Depression, his instincts sought security.
Ernie found that security as an Accountant—and later an Accounting Manager—at several companies, including Fabricon in River Rouge, Young Spring and Wire in Detroit, and finally at Bohn Aluminum in Southfield. He excelled as a planner and manager, and his creativity served him well when his boss felt his financial forecasts were not optimistic enough. In such instances, Ernie would often paraphrase his hero, Groucho Marx: "Those are my figures…if you don't like them, I have others."
While still a bachelor, Ernie decided to make a run for local office in River Rouge politics. His campaign slogan was "Ring the Bell for Riopelle". When he lost, he was determined to show the voters they had made a mistake. So he ran again. In his own words, "The voters decided to show me that I made a mistake…so I lost again!" His disappointment was furthered by an earnest but unsustainable turn in law school.
But like the scrappy boxer he was in high school, Ernie did not stay down for long. He sought a new life outside of River Rouge, bought property, and built a new house in Riverview on his cherished Mulberry Street. Shortly after, he met his future wife Gloria (Antil), with whom he would share 55 years of devoted marriage, and the birth (and loving raising) of four sons, Emmanuel, Paul, Peter, and John Matthew.
The Biblical names of his sons might have been a good indicator of the unexpected turn his life would take next. Inspired by the example of a few deeply spiritual people around him, Ernie began to be called into the Ministry, as a Permanent Deacon in the Catholic Church. It would lead to a Life of continual Service in the Diaconate for 45 years (half his Lifetime!). Throughout that time, Ernie served 6 parishes in total, including St. Cyprian in Riverview, Our Lady of the Woods in Woodhaven, St. Hugh in Southgate, All Saints in Detroit, St. Timothy's in Trenton, and St. Conrad's in Melvindale.
While he claims he never dreamed of becoming a Deacon, Ernie discovered he could use his personal gifts to bring God's message to people in a down-to-earth way. His unique Spiritual outlook, touch of theatricality, and above all, his humor brought a creative and straightforward witness of the Gospel to all who heard him. His message was particularly poignant in his Hospital Ministry, and later, his Funeral Ministry, which became a special Calling for him. His desire to reach and comfort people in a deep and personal way touched so many during the hardest moments of their lives.
Outside the Ministry, Ernie had several other avid interests. Inspired by the jazz music of George Shearing, he played the tenor sax by ear from the time he was a teenager. When his mother would tell him that something must be wrong with his horn, he would say, "No, Ma, that's just the way I play!"
Ernie was also an accomplished Artist, finding a true talent for sketching and painting later in his life. Likewise, he was an eloquent and prolific Poet, penning hundreds of funny and evocative poems and reflections, in four different volumes, over several decades.
And of course, Ernie loved visiting his mobile home in Maple City in northern Michigan—the place he called his "Tin Lizzie on God's Little Acre". His love for Up North knew no bounds, and he seemed to draw endless energy from his favorite haunts, especially when his Family was there with him.
But it was this Family that was his Deepest, Greatest, and Truest Love and Calling. If Ernie could be defined by one phrase, it would be "Family Man".
Everything he did, he did for the love, protection, and benefit of his Family. And that love and devotion only grew a thousand-fold when the Family expanded to include his caring daughter-in-law Nicole, and his four beloved grandchildren, Mannie, Emily, Cameron, and Allison. A fifth grandchild, Madelyn, is now being rocked in Heaven by her loving Papa.
Whether doing the "Ernie kick" with his wife Gloria on the dance floor, or getting her a yellow rose on their Anniversary; whether telling his sons about his youth in River Rouge, or enjoying special Family Trips, Holidays, and Traditions together; whether attending his grandkids' sports games and dance recitals, or just giving them encouragement, hugs, and kisses, there was no role that Ernie enjoyed more than devoted Husband, loving Father, and adoring Papa.
Ernie's lucky Family extends its profound and heartfelt thanks to all those people who deeply enriched Ernie's Life over his 90 amazing years, including his siblings (especially his Dear Sister Dolly), his enormous extended family, cherished Friends from his Ministry, his youth, and his work-life, and his many dedicated doctors and caregivers who helped to give us so many extra years with him.
Those doctors nicknamed Ernie "The Legend" for his longevity, and his unique, indomitable Spirit.
How profoundly grateful we are that Ernie shared that Larger-than-Life Spirit with all of us…
"I have loved you with an Everlasting Love,
I have called you, and you are mine.
I have loved you with an Everlasting Love,
I have called you, and you are mine."
A Funeral Mass will be held for Ernie on Friday, August 18, 2023, at St. Cyprian's Catholic Church at 13249 Pennsylvania Road, Riverview, Michigan 48193. The Mass will be held at 10:00 am, with a luncheon and reflections on his Life to follow immediately after, in the church social hall.
No flowers, please. But Family and Friends who wish to share a special memory of Ernie will be encouraged to do so at the luncheon following the Mass. We look forward to Celebrating the Unique, Remarkable, One-of-a-Kind Ernie Riopelle with all of you.
Funeral Mass
10:00 am
Friday, August 18, 2023
St. Cyprian Catholic Church
13249 Pennsylvania
Riverivew, Michigan, United States

Get Directions
Luncheon - Immediately following mass in the church social hall.
Our History
John Molnar, Sr. opened the Detroit Hungarian Funeral Home, now the Molnar Funeral Homes, in 1923. The funeral home began in his home until relocating across the street to it's Delray location at 8623 Dearborn Avenue, in 1936. He had a strong work ethic and believed that you should never stop learning...