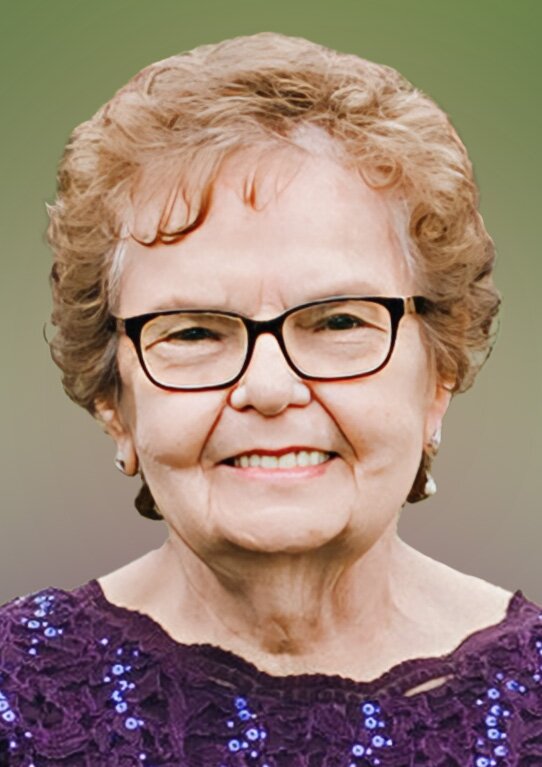 Share Your Memory of
Monica


Obituary of Monica Marie Johnson
November 1, 1936 - July 25, 2023

Monica Marie Johnson, Age 86 of Brownstown Township, Michigan, passed away peacefully in her home surrounded by her loving family on July 25, 2023. Monica was born in Monroe, Michigan on November 1, 1936, to Henry and Marie (Navarre) Wickenheiser. She was a 1954 graduate of St. Mary Academy in Monroe, and a 1956 graduate with an accounting diploma from Cleary College in Ypsilanti, Michigan. Monica was married to Charles Oscar Johnson on October 29, 1955, at Saint Patrick Catholic Church in Carleton, Michigan.
Monica was preceded in death by her beloved husband Charles in 2011 after 55+ years of marriage; her parents Henry and Marie; sister Jane (Wickenheiser) Tuttle; brother Bernard Wickenheiser; and daughters Sally (Johnson) Souva and Julie (Johnson) Winters.
Monica is survived by her daughters Lynn (Rob) Hogg of Flat Rock, MI and Leslie Johnson of Ferndale, MI; sons Douglas Johnson of San Francisco, CA, Phillip (Shelly) Johnson of Tecumseh, MI, and Stephen (Nichole) Johnson of Flat Rock, MI.; son-in-law Steve Souva of Monroe, MI, and former son-in-law Jon Winters of Milan, MI; and sisters Veronica Ehlert of Monroe, MI, and Joan Konrad of Taylor, MI. Monica also leaves behind her beloved eleven grandchildren: Allison (Joe) Caladino, Jenna (Brian) Sitarski, Bridgette (Dominic) King, Ethan Souva, Alex (Bree) Johnson, McKenzie Johnson, Aila Johnson, Kira Johnson, Reya Johnson, Landon Johnson, and Caden Johnson; and eight great-grandchildren: Anthony Caladino, Isabella Caladino, Henry Sitarski, Lilah Sitarski, Zachary King, Julianna King, Kendall King, and Oliver Johnson; along with many precious nieces and nephews.
In her early years as a mother, Monica enjoyed sewing, knitting, crocheting, canning seasonal bounties of fruits & vegetables, took cake decorating classes and then created incredibly beautiful life-event cakes for friends and family, even including wedding cakes—all while raising seven rambunctious, rowdy children.
While her children were teenagers, Monica enjoyed recreational bowling with her husband, sister Verna and her husband Dave, and then she stepped up her game after her children left the nest: Monica joined the Monroe Women's Bowling league and was Director of the Monroe Women's Bowling Association from 1981 through 1993; and was President of the Monroe Women's 500 Club from 1982 through 1986. She was inducted into the Monroe Women's Bowling Association's Hall of Fame with Meritorious Service in 2000. In the years after her retirement from the burial records department at Michigan Memorial Cemetery in Flat Rock, Monica participated in several senior bowling leagues in both Flat Rock and Monroe.
While her two eldest sons were enrolled in college in the early 1980's, Monica dusted off the schoolbooks and attended Wayne County Community College in Taylor, Michigan where she earned her A.A.S. Degree in Accounting.
Monica was a very social woman. She was always ready for a family party no matter the occasion. She frequently gathered for luncheons and dinners with her bowling friends, co-workers, former classmates from 'The Academy', and friends from St. Roch church of Flat Rock—where Monica served for several years as a lay Eucharistic Minister at both the church and at area nursing homes, celebrating the eucharist with the elderly bed-bound. In addition to her senior bowling activities, Monica also participated in senior water aerobics at the Flat Rock Community Center for many years in her retirement.
Monica was a life-long and voracious reader of fiction; it was rare to see her without a book during her leisure down-time. She also enjoyed traveling, embarking on solo trips to visit her daughter Julie and son-in-law Jon in Denmark, and her son Douglas in California.
All are welcome to come celebrate Monica's life and share memories at Molnar Funeral Home, Brownstown Chapel on Monday July 31 from 2:00pm to 8:00pm. On Tuesday August 1, Monica will lie in state at 9:30am at St. Roch Church in Flat Rock, where Catholic mass services will begin at 10:00am. A procession to Michigan Memorial Park in Flat Rock will follow, where burial will take place.
Monica's family would like to thank and honor Denise Bawol and Karen Konrad, Monica's home assistants for the past two years; Jean, Pamela, Doreen, Paula, and Nancy with the Senior Dementia Day Care program at Frenchtown Senior Center; nurse Nick Moomaw and nurse 'Bill' from Hospice of Michigan, Ann Arbor; and Cindy Grubbs, home bathing specialist—all for their wonderful support and excellent care during Monica's final couple of years during her battle with end-stage Alzheimer's disease.
Memorial contributions in Monica's memory may be made to Frenchtown Senior Citizens Incorporated—Senior Dementia Day Care, at Frenchtown Senior Center in Monroe County.
Visitation
2:00 pm - 8:00 pm
Monday, July 31, 2023
Molnar Funeral Home - Brownstown Chapel
23700 West Road
Brownstown, Michigan, United States
Rosary
7:00 pm
Monday, July 31, 2023
Molnar Funeral Home - Brownstown Chapel
23700 West Road
Brownstown, Michigan, United States
Instate
9:30 am - 10:00 am
Tuesday, August 1, 2023
St. Roch Catholic Church
25022 Gibraltar Road
Flat Rock, Michigan, United States
Mass
10:00 am
Tuesday, August 1, 2023
St. Roch Catholic Church
25022 Gibraltar Road
Flat Rock, Michigan, United States
Interment
Michigan Memorial Park Cemetery
32163 W. Huron River Drive
Flat Rock, Michigan, United States
OFFICIANT - Father Stephen Mutie, S.A.C.
Our History
John Molnar, Sr. opened the Detroit Hungarian Funeral Home, now the Molnar Funeral Homes, in 1923. The funeral home began in his home until relocating across the street to it's Delray location at 8623 Dearborn Avenue, in 1936. He had a strong work ethic and believed that you should never stop learning...