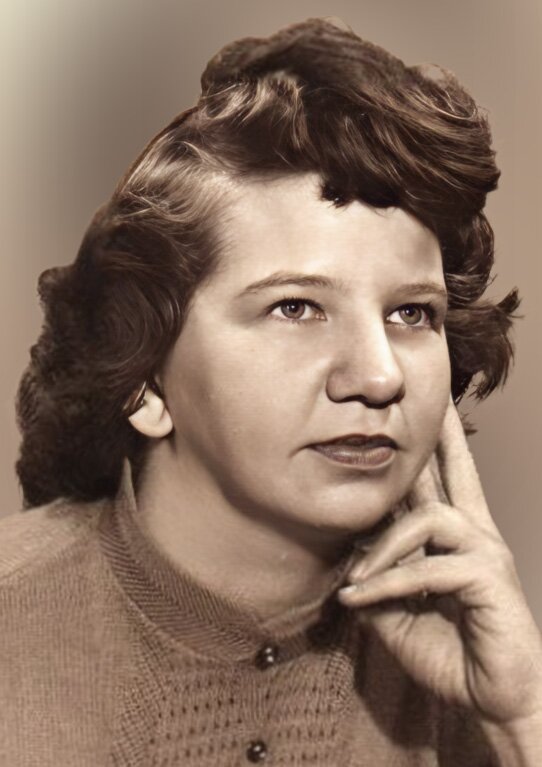 Share Your Memory of
Helen


Obituary of Helen Elizabeth Walker
September 25, 1932 - August 30, 2023
Helen Elizabeth Walker. Age 90 of Wyandotte.
Beloved wife of the late William Walker. Loving mother of Michael Walker, Patricia Vigneau (Ray Conn), Sharon (the late Larry) Kegley, Karen (Danny) Wasilenski, Paula Walker (Scott Wilkinson), and Jeffrey Walker. Dear sister of Mabel, Evelyn, Fred, Marianne, Albert, Donald and Georgie. Grandmother of 14 grandchildren, and 22 great grandchildren, and 2 great great grandchildren. Also survived by a multitude of nieces and nephews. Preceded in death by parents Florence Brede and Alfred Thayer.
Memorial Contributions are appreciated to Colon Cancer Research.
Interment at Michigan Memorial Park.
Family Tribute
Helen Elizabeth Thayer was born into this world on September 25, 1932. She was the daughter of Alfred and Florence and named after an aunt on her father's side of the family. Helen was one of 8 children; 5 girls and 3 boys. Things were not always easy for Helen. She and her younger brothers were in and out of foster homes and quickly left to care for themselves. She was also a cancer survivor.
In 1945, Helen met a handsome gentleman named William (Bill) Walker on the front porch of her then-home in Detroit. Helen made an impression on Bill and they started dating. Bill had just returned home from World War II and would have been 19 years old. Helen would have just turned 14. Three years later they were married in Bowling Green, Ohio, on Saturday, July 31, 1948. They purchased a home in Southgate and started a family. Helen and Bill had 6 children; 2 boys and 4 girls. Their legacy continues with their children: Michael, Patricia, Sharon, Karen, Paula, and Jeffrey, 14 grandchildren, 22 great-grandchildren, and 2 great-great-grandchildren.
To say she was a homemaker does not give her the tribute that she is due. She was home. She opened her house to many family members, friends, and her children's friends. She showed unconditional love and welcomed everyone. Her home was a safe haven. Romans 15:7- "Welcome one another as Christ has welcomed you, for the glory of God."
She was a caregiver. After she had raised her children and moved to Mosherville, she became a caregiver for the sick and elderly in her community. She would cook, clean, and care for them, but most importantly, she was there to show them companionship and to remind them that they were loved. Helen was a wonderful conversationalist. She would sit and talk to you for hours about everything and nothing at all. She would make you laugh and cry all at the same time. She was a warm and comforting woman. She made you feel safe and loved. John 15:12-13 "My command is this: Love each other as I have loved you. Greater love has no one than this: to lay down one's life for one's friends."
She was a grandma and she loved spending time with her grandchildren. She helped with 4-H projects and school projects. She showed us how to pick strawberries (and enjoy them straight from the garden), shared her passion for painting ceramics with us, and taught us to bake, clean a coffee pot, do a crossword puzzle, brush her hair, and how to give the best massages. She would take us on drives (and everyone knew Grandma didn't drive) to the local gas station to get ice cream. She made us homemade chocolate pudding and let us stay up late on the weekends. The love of a grandmother is unique. By spending time with us she showed us that we were loved and how to love. She taught us compassion, unconditional love, and the meaning of family. Deuteronomy 4:9, "Only be careful, and watch yourselves closely so that you do not forget the things your eyes have seen or let them fade from your heart as long as you live. Teach them to your children and their children after them."
We will miss our mother and grandmother dearly, but her spirit lives on in each of us.
Rest in peace dear, grandmother. Always on our mind, Forever in our hearts.
You've Just Walked on Ahead of Me
And I've got to understand
You must release the ones you love
And let go of their hand.
I try and cope the best I can
But I'm missing you so much
If I could only see you
And once more feel your touch.
Yes, you've just walked on ahead of me
Don't worry I'll be fine
But now and then I swear I feel
Your hand slip into mine.
-Author Unknown
Visitation
2:00 pm - 8:00 pm
Saturday, September 2, 2023
Molnar Funeral Home The Thon Center
2760 Biddle Avenue
Wyandotte, Michigan, United States
734-282-4400

Get Directions
Service
11:00 am
Sunday, September 3, 2023
Molnar Funeral Home The Thon Center
2760 Biddle Avenue
Wyandotte, Michigan, United States
734-282-4400

Get Directions
Our History
John Molnar, Sr. opened the Detroit Hungarian Funeral Home, now the Molnar Funeral Homes, in 1923. The funeral home began in his home until relocating across the street to it's Delray location at 8623 Dearborn Avenue, in 1936. He had a strong work ethic and believed that you should never stop learning...