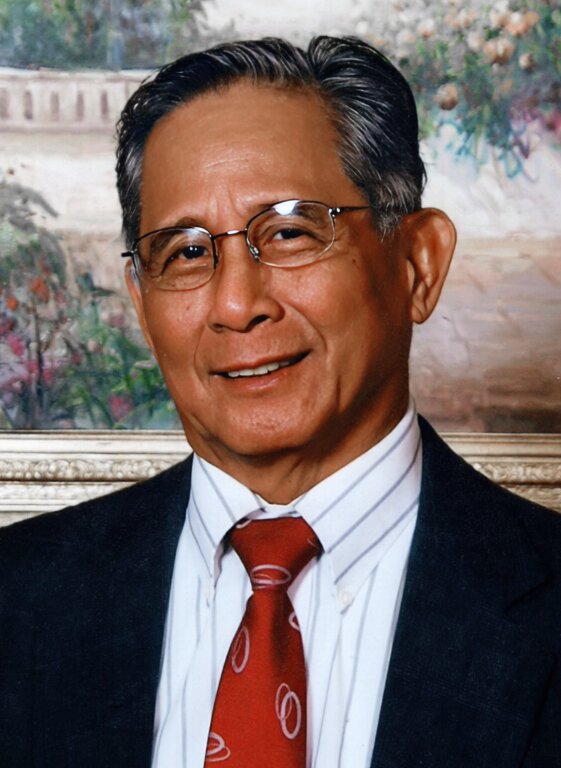 Share Your Memory of
Benedicto


Obituary of Benedicto Cruz Beltran
October 24, 1934 - October 28, 2023

Benedicto Cruz Beltran. Age 89 of Grosse Ile.
Beloved husband of Dr. Magdalena Santiago Beltran. M.D. Loving father of Nelson Beltran and Vladimir Beltran. Dearest grandfather of Natalie Beltran.
Family Tribute
Benedicto was born on October 24, 1934, in Cabucbucan Rizal, Philippines to Roberto P. Beltran, a farmer, and Luciana Cruz Beltran. He was the fourth of nine children: Alfredo, Protecto, Rodolfo, Benedicto, Primitivo, Teresita, Zenaida, Magdalena, and Rolando. In his youth, he worked at his aunt's restaurant where he cooked (he was always a great cook). He graduated from high school with honors from Wesleyan College (when it was a high school) and attended National University in the Philippines where he graduated with a B.S. in Engineering. Afterwards, he worked briefly as a vocational school instructor. In the early 1960s, he worked for the Philippine Department of Public Works and Highways working on a road construction crew. During that time, he met his future wife Magdalena after an introduction from a cousin who was her best friend when she attended Manila Central University Medical School. He and Magdalena were wed on June 12, 1965. Their first son, Nelson, was born on December 29, 1966.
In 1967, Benedicto, Magdalena, and Nelson emigrated to the United States and settled in the Detroit area. On January 27, 1969, their son Vladimir was born. He worked for Will Hoff Corporation working on printing machines and equipment for 25 years. When his sons were young, he enjoyed summers fishing from his boat on the Detroit River. In 1982, he and several friends founded the Brownstown Lions Club. He was an early member of the Downriver Filipino American Association in 1989. Dad was known as Benny to all his close friends and Junior to his relatives. Throughout his service in the Brownstown Lions Club, Benny enjoyed fundraising for a multitude of charitable causes such as The Penrickton Center for Blind Children (where he was chairman), Leader Dogs for the Blind, and the Brownstown Health Day just to name a few. From 1987 to 1988, Benny was the president of the Brownstown Lions Club. He was the recipient of the Lions Club International's highest award, The Melvin Jones Fellowship Award, for his charitable work. Benny was also involved with the PACOUSA organization in Ohio where he helped organize a shrine to the Filipino saint St. Lorenzo Ruiz at the Sorrowful Mother Shrine in Bellevue, Ohio. Dad retired in 1992. During his retirement he continued to spend more time on his charitable work with the Brownstown Lions Club.
Dad was very mechanically skilled and knew how to build and fix things. He often referred to himself as "a jack of all trades and a master of none." His friends would often ask him to help them with home improvement projects because of his skill and handywork. He spent a lot of his free time tinkering with various projects around the house and building things.
Dad was known for putting family first above everything. Whatever the family needed, Dad made sure he provided it. He always made time for the family. He single-handedly took care of his granddaughter, Natalie, when she was baby (not an easy task). He often sacrificed having things for himself so that the family could have what it needed.
Dad was known for his loyalty to his friends. If ever there was a friend in need of his help, he would be there no matter what time of day it was and regardless of the weather be it rain, snow, or sleet. He often made late night trips to help friends fix their car. He was someone you knew you could count on.
Dad loved to be around people at parties. People enjoyed his stories and jokes. He was fun to be around.
Dad was always a modest man. He didn't brag and was never showy. He let his silent accomplishments do the talking.
Dad was a very loving father. He could be strict at times, but he did so because he wanted us to be the best that we could be. I understand that more now than I ever did before.
Thanks Dad for being the best father I could ever ask for. Thanks for being the best man I ever knew.
We love you Dad! Rest in Peace!
Livestream Link: The services will be live-streamed. The family encourages anyone who wishes to watch to do so by clicking the following link: https://youtube.com/live/yZuUIgMGWpo?feature=share
Visitation
1:00 pm - 5:00 pm
Saturday, November 4, 2023
Molnar Funeral Homes - Brownstown Chapel
23700 West Road
Brownstown, Michigan, United States

Get Directions
Service
2:00 pm
Saturday, November 4, 2023
Molnar Funeral Homes - Brownstown Chapel
23700 West Road
Brownstown, Michigan, United States

Get Directions
Officiant - Father Marc Gawronski
Our History
John Molnar, Sr. opened the Detroit Hungarian Funeral Home, now the Molnar Funeral Homes, in 1923. The funeral home began in his home until relocating across the street to it's Delray location at 8623 Dearborn Avenue, in 1936. He had a strong work ethic and believed that you should never stop learning...